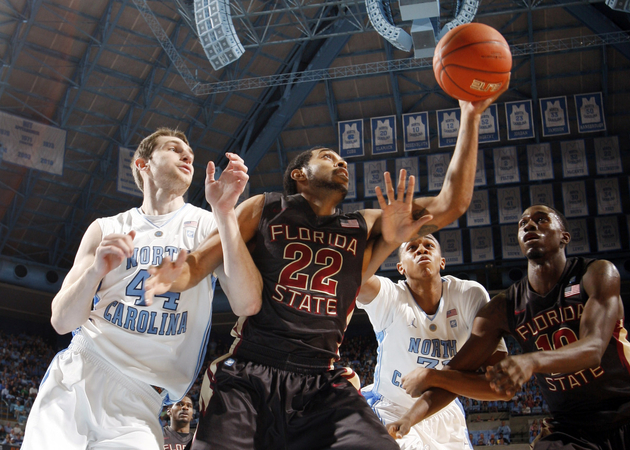 Posted by Eric Angevine


When Florida State hosts UNC tonight, look out for Michael Snaer. No, wait, make that Bernard James. Er, would you go for Deividas Dulkys? No? How about Derwin Kitchen, then?
Yeah, Derwin might do. You might wonder why I mentioned those other three guys, though.
Ever since Chris Singleton went down with a potentially season-ending injury, no one player has taken over to lead the Seminoles in scoring. Snaer put up 16 points and 8 boards in a win over Virginia. James did 14 and 8 to help beat Wake Forest. Kitchen, 16 and 7 in a loss at Maryland, and then, perhaps the most unusual combo of all: Dulkys with 17 points and freshman Okaro White pulling down 7 boards to go with his own 17-point outing to beat Miami.
That rotation is all well and good against that row of non-tournament teams, but how will it fare against North Carolina? Probably not too well. Ty Zeller and John Henson inside would be tough to handle even with Singleton in the lineup, but an improved Harrison Barnes, Kendall Marshall putting the ball in the hands of the big men, and Dexter Strickland playing tough D, it may be too tall an order.
Then again, Leonard Hamilton should be in good shape tonight if Kitchen and White (above) can become the dynamic duo on the interior.
This year, however, scoring may not be the way to beat UNC. If Boston College has taught us anything, it's that even a mediocre defensive team can hold the Tar Heels to a low scoring output. Florida State is a very good defensive unit, even without Singleton, and they're playing at home.
Don't get comfortable just yet, Heels fans.
Photo: US Presswire