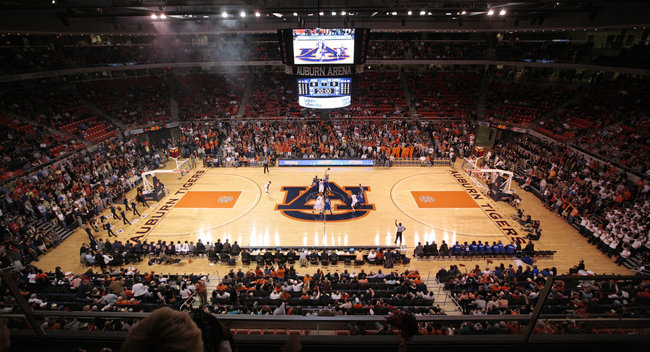 Posted by Matt Jones

It has not been a stellar year for the SEC on the basketball court. While their football brethren are basking in the glow of a potential fifth straight national champion from the conference, the basketball teams have taken a decidedly different direction in the start of their 2010-2011 campaigns. In fact, to say that SEC basketball has performed "poorly" thus far this season is an understatement as large as saying that the NCAA is "inconsistent" in the way it hands out punishments for rules violations. The SEC has been downright pathetic and an embarrassment to the good names of Wimp Sanderson, Sonny Smith, Hugh Durham, Dale Brown and even Don Devoe. Take a look at a partial list of teams that have notched a victory over an SEC opponent thus far this season:
UNC Asheville
Samford
Campbell
Presbyterian
St. Peter
Nicholls State
Coastal Carolina
North Texas
Florida Atlantic
East Tennessee State
Furman
That is a list of teams so bad that ESPN wouldn't even package them together, stick them on a random Caribbean island and try to sell them as a viable "holiday tournament." It is a group so poor that only one has even been invited to participate in "Bracket Buster" weekend. Yet they all were invited into an SEC team's home arena and came away with a victory. As bad as the losses have been however, the wins have not been much better. As of now, the conference as a whole only has three wins against teams that are currently ranked in the Top 25, and the two biggest marquee victories (Tennessee's upsets of Villanova and Pittsburgh) are muted a bit by later losses to Oakland and Charlotte.
The SEC East has been awful, with the Vols losing three of their last four, Florida falling at home to an Artis Gilmore-less Jacksonville squad and South Carolina taking a 16 point stoning at home to Furman that caused South Carolina fans to yearn for the return of Devan Downey. But the SEC East has looked like the 1985 Big East in comparison to the SEC West, which may have the most miserable collection of BCS teams in a division in the history of major college basketball. The best team in the division is likely Arkansas, whose most distinguishing quality is that they are the only team in the division not to have lost to a team outside the RPI Top 100. While at the bottom, Auburn has celebrated the christening of its new arena by insulting the good name of Chris Porter and taking the early lead over Oregon State and Depaul for worst BCS program in the land.
How did it get this bad? In theory, the SEC should have some real potential. One could make the argument that it has its best assortment of coaches in the last 15 years, with three of the top 15 in the game (Calipari, Pearl and Donovan), four rising up and comers that were coveted by a number of programs (Anthony Grant, John Pelphrey, Darrin Horn and Andy Kennedy) and four solid X and O guys who have had sustained success in the past (Kevin Stallings, Mark Fox, Rick Stansbury and Trent Johnson). Over the last few years, many of these programs have kept good Southern talent in-state and the rise in national exposure that has come with Florida's national championships, Bruce Pearl's emergence as a media darling and John Calipari's explosion of talent at Kentucky would seem to have benefited the conference to such a degree that it should be contending for top spot in all of America. Instead, the conference is at best eighth in the country and an argument can be made that if the NCAA Tournament were held today, only three teams (Kentucky, Tennessee and Vanderbilt) would be a lock to be a part of the festivities.
To be fair, it isn't all bad. Kentucky will be one of the ten best teams in the nation come NCAA Tournament time. Vanderbilt and Georgia have played a bit above their preseason rankings and could make some noise in conference play. And one has to assume that Tennessee and Florida will get out of their December funks to create a solid SEC East. But with the Western Division giving the conference more dead weight than "Blades of Glory" in a Will Ferrell movie marathon, the prognosis for the SEC does not look bright. We all know that with the exception of Kentucky and occasionally Vandy, none of these schools care one bit about basketball and would rather obsess over the inseam measurement of a Defensive Line prospect out of Alabama than celebrate the talent of Trey Thompkins or Chris Warren. But for those of us who do care about basketball in the SEC (meaning Kentucky fans and random old men in stuffy gyms watching high school games throughout the South), couldn't they fake it just a little bit better?
Photo: AP