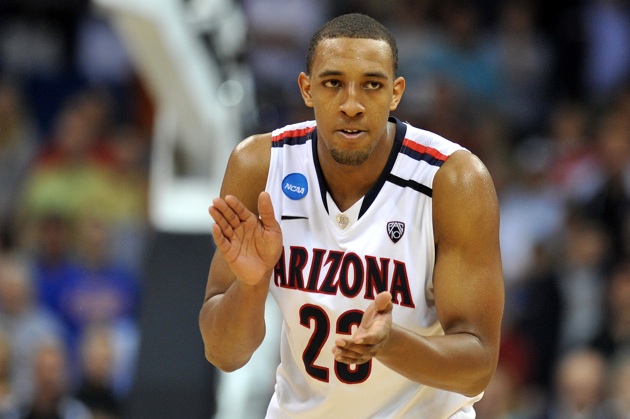 Posted by Jeff Borzello
After a dominant NCAA tournament performance that vaulted him into the top five of the NBA draft, it came as no surprise that Arizona forward Derrick Williams declared for the draft on Wednesday.
Williams will sign with an agent, meaning he cannot return to the Wildcats for his junior season.
He averaged 19.5 points and 8.3 rebounds this past season, shooting nearly 60 percent from the floor.
With Williams, Arizona had a chance to be a top-10 team heading into next season. Even without him, though, the Wildcats will be a contender for the Pac-12 championship.
Jamelle Horne is the only other loss besides Williams, as four starters return. Momo Jones had strong showings in the NCAA tournament, while Kyle Fogg and Kevin Parrom were solid playmakers on the wings. Solomon Hill and Jesse Perry were also effective in the postseason, and Jordin Mayes was in the game during crunch-time situations.
What has everyone excited is the recruiting class Sean Miller is bringing in. Josiah Turner and Nick Johnson were teammates on the AAU circuit, and will make immediate impacts for the Wildcats. Turner can start at the point, while Johnson is an athletic scorer who is also a lockdown defender. Four-star recruits Angelo Chol and Sidiki Johnson will help replace Williams in the paint.
Williams would have made this team a Final Four contender, but there will still be plenty of wins in Tucson next season.
Singleton's loss will hurt Florida State
Florida State's run to the Sweet 16 after a poor finish in the regular season demonstrated how important Chris Singleton was to the Seminoles this past campaign.
Unfortunately, Singleton announced on Wednesday that he was entering the NBA draft and signing with an agent.
Singleton missed six games due to an injury, but still managed to average 13.1 points and 6.8 rebounds, and cement himself as arguably the most versatile defensive player in the country.
The loss of Singleton means Leonard Hamilton will be without his two scorers from this past season, as Derwin Kitchen used up his eligibility. For a team that struggled immensely to score, that doesn't bode well.
Next season, the Seminoles will need wings Michael Snaer and Deividas Dulkys to increase their scoring, and Ian Miller has to become more consistent at the point guard position. Bernard James was a defensive force in the NCAA tournament, and Okaro White showed flashes.
The incoming freshman class will help. Aaron Thomas was a late bloomer who brings plenty of offense and deep range on his jumper, while forward Antwan Space is a versatile rebounder who can hit face-up shots. Terry Whisnant is another gunner.
Singleton was one of the best two-way forwards in the country; an ineffective Florida State offense will struggle to replace him.
Photo: US Presswire