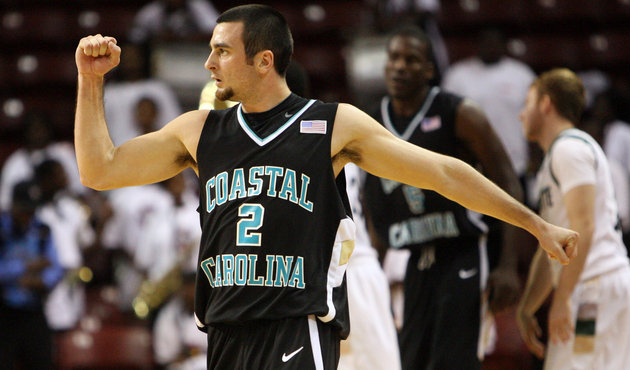 Posted by Matt Norlander
Welcome back to our Tuesday-at-noon post that's not quite bubble-watching, not quite bracketeering, but falls somewhere in between. Rather than debate every team's chances and stake in the bracket (after all,
Palm has that on lockdown here
at CBSSports.com), I like to cherry-pick a couple of teams, a couple of scenarios, and compare which is superior. It's all in good fun. Consider this exercise a magnifying glass for the kind of debates that could take place within the conference rooms in Indianapolis next month, when the selection committee chooses the field of 68.
Let's get right to it. I've been waiting about a month for this, and the program hasn't let me down, so let's talk some Coastal Carolina hoop!
Paper-tiger teaser
Or are they paper Chanticleers? And in case you need to know what a Chanticleer is: a fabled rooster. Yes, that's for real (yet isn't). I want the Chanticleers to play the
Billikens
at some point. Would that game even exist? I digress, of course.
Let's pit
24-2 Coastal Carolina
against a perennial high-win, low-loss March guest: Utah State. The Aggies are 23-3 and in a familiar spot, having wracked up more wins than almost anyone in the country, yet see their slate void of one quality W. But the selection committee's been as fair as it has been unfair to USU in the past. In 2004, Utah State went 25-4 and was snubbed because of a miserable non-con skedge. When it was 30-4 two years ago, the Aggies were give a bid. Last year's 27-7 record was good enough. It depends on the landscape around Stew Morrill's team. This year's bubble is of course
the weakest in the history of ever,
so perhaps both these teams are in OK shape.
But let's pretend they're not. Let's say the final at-large comes down to these two.
Coastal Carolina has just two tournament appearance in its history ('91 and '93). It's never had a season this good;
two more wins, and it eclipses the '91 team's record
for victories in a season. But where's the beef? It's the question we pose to so many low-level conference teams. The Chants hail from the Big South conference, where they are 15-0 amid riding the nation's longest winning streak, 22 games. A good sign, and if it keeps on keeping on and loses in the Big South title game, I think CCU gets a bid.
But there's plenty of rub. KenPom number is 81; Sagarin 68. The
only losses came in back-to-back tilts against the two toughest opponents on the CCU's schedule, College of Charleston and Georgetown.
That's worrisome. The best win could be at 13-11 UNC-Asheville! Plus, four of the Chants' 22 wins are against non-D-I opponents, so in the mind of the committee, this is an 20-2 team. That many gimme games scheduled is frowned upon.
Utah State is in better shape for a few reasons. Primarily, it gets a chance Coastal won't. In BracketBusters this weekend, the Aggies play against Saint Mary's, a top-40 team. There is no BracketBusters for the Chanticleers. Utah State also has a loss to Georgetown, as well as Idaho and Brigham Young. The WAC is rated 12th, while the Big South is 24th in KenPom rankings. In Sagarin, the WAC is 14th, the Big South 20th. A tougher conference
gives Utah State the nod.
Turtles in trouble


Now let's talk the BCS-conference teams. Maryland is funny. There's been
recent literature
about how Wisconsin, in many ways, is a team computers love and people can't embrace quite as much (that's changed some, obviously, with Wisky's win over Ohio State). How about the Terps, though? Currently,
they lack one impressive win,
yet are ranked No. 19 by KenPom.
Sagarin?
A little more accurate at No. 41.
Let's stick with the Pomeroy numbers, though. Who's a team that's ranked fairly low, yet stands a better chance to earn an at-large. My pick: Washington State. More on them a few grafs down.
Here comes a huge one for Gary Williams' team tonight, a road game at equally bubbly Virginia Tech. All too appropriate that these teams have put themselves in this situation. Until now, Maryland's been considered a bubble team, even if fringe, with casual inclusion. There's not a whole lot to support that.
Maryland has a miserable RPI of 89, and a SOS of 81.
I know the Pac-10's not even as good as the ACC, but
Washington State has a slate that rises above the conference's stained reputation.
The 17-8 Cougars (RPI of 76) have wins over Baylor, Gonzaga, Portland (that's decent, folks) and Washington. Maryland has Penn State on the road and Clemson and College of Charleston at home.
The selection committee says it doesn't take conference into account when picking teams (and I do believe that). If that's the case, Wazzu deserves a place above Maryland, pretty clearly.
Photo: AP