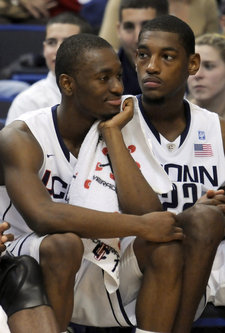 Posted by Matt Jones


So it begins. The stench of their putrid pre-conference basketball schedules is dissipating and the start of the daily grind of life for Big East teams is about to begin. Big Monday kicks off tonight with the special triumverate of Jay Bilas, Bill Raftery and Pittsburgh underachievement, as it is Jim Calhoun and the UCONN Huskies coming into the Steel City for the official kickoff of Big East play.
This has been an especially sweet non-conference season for
Jim Calhoun
, as he has brushed off the whispers of critics who suggested that the glory days of Husky basketball have passed, and watched his UCONN team begin the season 10-0. Calhoun went to Maui over Thanksgiving with low expectations and a perpetual scowl on his face, and came back as Tournament champion, with victories over then-Top Ten Michigan State and Kentucky in the process. He has watched as his star guard Kemba Walker has become a National Player of the Year contender, averaging 26.5 points a game and creating a set of highlights that has been unmatched on the national level. For the first time in recent memory, Kemba Walker and his
Maynard G. Krebs
goatee have located arguably the coolest basketball player in the country in the decidedly uncool locale of Storrs, Connecticut. And in the process, Jim Calhoun has become relevant nationally once again, and made his decision to "not give back one dollar" of his salary seem reasonable.
Meanwhile, our friends in Pittsburgh have followed a similar path to recent years under
Jamie Dixon
. They came into the year with high expectations and a mediocre early schedule, thus giving the Panthers a Top Ten ranking and the buzz associated with a 12-1 ranking. Their early victory over Texas looks better and better as the season continues, but the beatdown at home at the hands of Tennessee gives Pitt skeptics (of which I am usually one) much-needed ammunition. Pitt once again has had success with balanced scoring, and hard-nosed defense, but this year has also added tremendous passing, averaging 20 assists a game and producing some of the best ball movement that Panther fans have seen in a number of years. They come into tonight's game with UCONN still a bit of an unknown factor, looking the part of a Big East Championship contender, but with a number of questions that still must be answered.
Tonight at 8:30 we kickoff the official start of "games that matter" in college basketball and the winner of this game gets an early leg up in the Big East and potentially takes the mantle of favorite going into conference play. Outside of NASCAR, rarely does a sport begin its season with its most important event, but when the final tally in the Big East is taken, this initial game could go a long way in crowing the conference champion. Plus, and perhaps most importantly, it will be the first game that the CBS College Basketball Blog follows in-depth, a fact that has to make the Pitt and UCONN players even more amped up for the game. At the end of the night, we will know which of these teams are contenders and which are pretenders, all the while being mesmerized by Bill Raftery's voice and Jay Bilas's fascinating hairline. I hope you are as excited as I know I am.
TOP THREE REASONS TO WATCH

1.
Crown the early Big East Favorite
2.
Does Kemba Walker Reclaim his spot as leader for National Player of the Year
3.
Determine the Status of the Jim Calhoun Smirk (continuing or wiped off for a night)