Posted by Matt Norlander
Who knew one piece of a three-guard puzzle could be this valuable?
When a triumvirate starting backcourt is as dynamic, intelligent and responsible as Georgetown's, most would expect two guys could pick up the slack if the third was having an off night. But it seems fellow starting guards Austin Freeman and Jason Clark — the rest of the team, too, really — can't overcome a Chris Wright slump.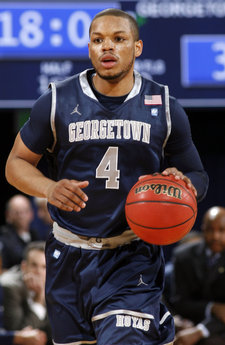 The Hoyas are already 1-3 in the Big East, putting one of the country's most guard-heavy, capable teams well behind the 8-ball (currently in 12th place) in what more and more people are considering, yet again, the best conference in the country. (Sorry, folks, the league looks premier yet again.)
Recently, SI.com's Andy Glocker wrote of the 10 most irreplaceable players in all the college hoops land. Wright didn't make the list. Should he have? If you do want to tag him replaceable, then you've got to ironically give as much weight to his value. Consider: In the Hoyas' four losses this season, Wright's been off. Way off. Not non-existent, but non-productive compared to what he normally provides JT3's team. When his rut is enough to unintentionally help St. John's, then heads begin to turn.
Across the board there's been a dip in the senior guard's play, but the performances in losses are heavily weighing on those statistics. To date, Wright is averaging fewer minutes and points per game than last season. His shooting percentages have swooped considerably, although he is dishing out nearly two assists more per game.
There's an intangible quality to Wright's play and how that correlates to his team's collective swagger; you can pick up on that just by watching 10 minutes of the next Hoyas game you catch on the tube. But we can apply his numbers to Georgetown's (lack of) success as well. You bet your brain we're about to do this right now.
In G-town's first loss of the year, against what's probably an NCAA tournament team in Temple, Wright scored 10 points, six of which came on perfect free-throw shooting. The Hoyas' senior guard shot 28.5 percent, effectively, from the field (that stat combines the value of a 2- and 3-point shot), but only scored on four of his Georgetown's 66 possessions. He factored in on just 16.5 percent of the possessions, overall. For a starting point guard, that number is entirely too low.
In the Dec. 29 Big East opener against Notre Dame, Georgetown fell, decisively, 69-55. Wright's stat line in that tilt: 3 points in 34 minutes; an 18.3 possession percentage; an effective field goal percentage of 11.1; 1 for 3 from the foul line; 6 assists; no steals or blocks; and three turnovers.
The pattern was beginning to emerge. At this point Georgetown was 11-2 with good road wins over Old Dominion and Missouri, plus a nice home W against WAC bully Utah State. Six days prior to the Notre Dame loss, the Hoyas waxed issue-riddled-and-young Memphis, 86-69, on the Tigers' home floor. Wright scored 19 points and factored in on 28 percent of Georgetown's possessions. His numbers against Missouri and Utah State were also very influential.
But some hours after the confetti got swept off the streets of Times Square, Georgetown's 61-58 loss down the way against St. John's on Jan. 3 all but confirmed the correlation. There was Georgetown, scoring in the high 50s/low 60s, letting supposedly inferior teams hang around again. Wright played all but three minutes in the game.
His point total: seven. That's also the amount of 3-pointers he heaved, making just one.
The home game against enigmatic West Virginia this past Saturday cemented the theory that Wright's woes dictate how Georgetown goes. Loss No. 4 (catalyzed in part by No. 4) was a 65-59 final at the Verizon Center. A 62-possession game (that's a very slow game, FYI) saw Wright actually factor in on nearly 30 percent of his team's possessions. Only this time his frequent influence was as negative as it was positive — Wright turned the ball over 31 percent of the time.
He had a 27 eFG% number for the game (nine points of 3-of-13 from the field) and only managed two assists.
Now, Georgetown can win in a lot of ways and it doesn't always need Wright to be the alpha to earn a W. But in losing, there is one constant: Wright goes silent or he goes erratic. His mediocre performances coupled with Georgetown losing is no longer a question, so it now ushers in the next one.
With a few months remaining in his college career, can Wright prevent his poor play from popping up in order to prohibit Georgetown from transforming? If other teams shut Wright down, the Hoyas go from a power team to a pedestrian one pretty quickly.
Photo: US PRESSWIRE