Posted by Bryan Fischer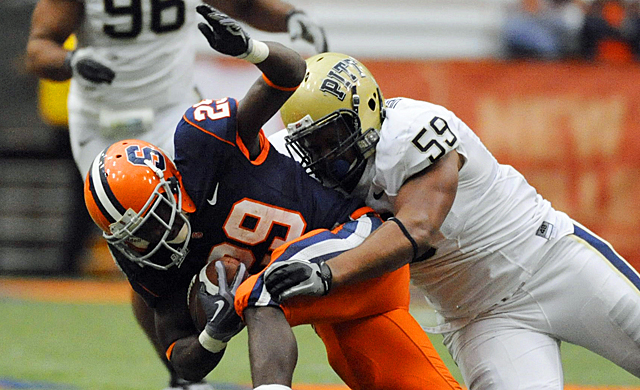 Well, that happened quickly.
The
ACC
officially added
Pitt
and
Syracuse
to the conference, it was announced Sunday morning. While the reverberations of the move are still being felt across the collegiate landscape, one area where things will likely be all quiet for both schools is on the recruiting front.
Though each school draws upon a decent talent base, this isn't as impactful a move as
Texas A&M
heading to the
SEC
. Will it allow a school like
Maryland
to grab a player or two from Pennsylvania? Sure. Does it allow Syracuse to reach into Virginia or Florida a little more than they used to? Sure. But we're talking about a handful of players - if that - every year across the conference. The shift to 14 teams does little in football recruiting outside of being able to pitch playing at new venues like
Virginia
Tech
or
Clemson
.
Basketball recruiting may be a whole another matter. With increased access to New York City for schools such as
Duke
or
Virginia
, the move may be a boon to some coaches. As senior writer
Gary Parrish
details, the ACC is without a doubt the
nation's premier basketball league
.
It is not even close to that in football.
While it is true that adding the two schools gives the ACC access to the New York City and Pittsburgh media markets, recruits don't ask a lot about mass media exposure when deciding on what school they'll be committing to. Facilities, coaching staffs and, perhaps most importantly, winning are what counts to most out there. New uniforms also seem to be on the list.
This move opens some doors, closes some others but ultimately the impact itself just isn't that big going forward. Longterm and with some stability with the coaching staffs, the move could be a net gain for all 14 teams. For right now, it's just a whole lot of "meh."