Posted by Bryan Fischer
Twitter
and recruiting are two things that
Pete Carroll
was well known for during his days at
USC
and even though he has moved on to the
Seattle Seahawks
, it appears he is still using a few of the tricks he learned in college.
Currently locked out of the
NBA
,
Miami Heat
forward
LeBron James
kicked off a series of events by sending a Tweet to
ESPN
reporter
John Clayton
in which he jokingly
asked about the NFL deadline
for signing free agents. James is familiar with playing football; in his sophomore year of high school he was named first-team all-state in Ohio as a wide receiver. At 6-foot-8, 250-pounds though, he would probably be a tight end or defensive end if he were playing now. His inability to finish games though, would probably hold him back from getting a fifth star.
CBSSports.com
NFL Insider
Mike Freeman
said in his
Daily Shoutout
that some in the league have told him James could be a Pro Bowl tight end if he worked at it. Freeman, like just about everyone, believes it wouldn't happen and won't happen.
It would be a disaster because of the contact. It's been a while since James was hit and the last time that happened was in high school for him. And don't give me the NBA is physical. The only thing that rivals the NFL in terms of physicality are the fighting sports.
That's not stopping the rambunctious Carroll from at least making a pitch.
After first asking
if James knew what the NFL rookie minimum is (about $375,000 in 2011), the unemployed basketball star
responded
that it was still more than he was making now (unlikely, especially considering that he made $16 million from the Heat alone last season, but I digress).
That didn't deter Carroll from continuing his pitch, offering to set up a tryout at
Miami
, where his son
Brennan
is the tight ends coach and recruiting coordinator. He also sent a long a present should James be interested: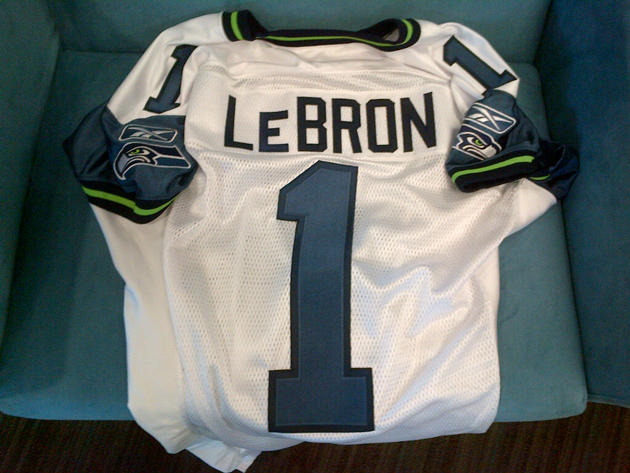 Now, if Carroll were still in college and James were a recruitable athlete, what he did would make up several
NCAA
violations. Of course, he's somewhat familiar with those. Regardless, the head coach's frequent saying of 'Always Compete' continues to come across as 'Always Recruit' to this blog.
And based on
this simulation
of King James in the video game Madden, it's easy to see why Carroll thought the locked out basketball player was worth pursuing on the gridiron.
(Hat tip to the Eye on Football blog)