Posted by Bryan Fischer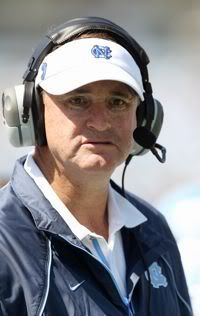 A state of shock.
That's likely what many
North Carolina
recruits are feeling
following the sudden dismissal
of Tar Heels' coach
Butch Davis
on Wednesday. That the school chose to wait until it did - two days
after
ACC
media days and
eight
days before fall camp started - was a bit surprising to just about everyone.
So how does it affect North Carolina's recruiting? Only time will tell but it isn't going to be positive.
It was Davis who was chiefly responsible for luring the class of 2011 to Chapel Hill despite the possibility of severe
NCAA
sanctions stemming from violations involving former assistant
John Blake
and instances of academic fraud that caused several players to lose their eligibility. Despite the head coach being shown the door, that class has already begun college and won't be able to leave unless released by the university.
Undoubtedly many are upset after being told by the staff that things would blow over in short order. They obviously knew this could end up happening down the road and so far none are speaking out.
According to
The Virginian-Pilot
, the players can't speak with the media after being told by the school to keep quiet.
For the upcoming class of 2012, things are a bit different.
Running back
Greg Garmon
had the Heels as his top school but following the dismissal, has dropped the school way down his list
according to Scout.
"I no longer have a leader," Garmon said.
Defensive end target
Sheldon Rankins
had similar thoughts.
"It's always a shocker to hear the head coach of the football team you really like got fired … but you take it as it is and go with it," Rankins
told the Atlanta Journal Constitution
. "I was already looking at other options because of the NCAA sanctions, so it didn't really affect me that much. Everything is still wide open."
Though neither have completely ruled out the school, it's going to be quite the uphill battle for the interim staff to land either given the uncertainty. The pair doesn't speak for every recruit however. Offensive tackle
Jon Heck
is one of several UNC commits in the upcoming class to say they're still on board despite the recent news.
"It is unfortunate and I wish that I could still play under Coach Davis but like I said I considered this possibility from the get-go, so I am still a 100% committed to UNC," Heck
told Rivals
.
North Carolina currently has 12 commitments for the class of 2012 though none is considered an elite prospect. While it remains to be seen how many actually stick with their commitment on Signing Day, at least they'll be able to make a more informed choice than their peers in the 2011 class. Remember that all of this is before any possible sanctions handed out by the NCAA Committee on Infractions, which will only make things worse. You can bet that opposing schools have already begun negatively recruiting and used all this against the Heels.
No matter how you slice it, it's going to be tough for North Carolina out on the recruiting trail.