Posted by Bryan FischerCBSSports.com
Senior Writer
Dennis Dodd
rolled out his annual
Hot Seat Ratings
, giving every FBS head coach a grade from 0 (can't be touched) to 5 (it's time to win now). Only one head coach is burning up on the seat with the maximum rating of 5 but there are plenty of others who begin the season feeling some heat. Being on the list puts a lot of the coaches in a tough position on the recruiting trail as they look to turn things around while battling the perception that they won't be there when the recruit steps on campus. Taking a look at several of the coaches on the list, here's how they're doing on the recruiting trail: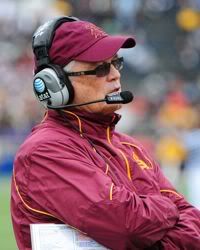 Dennis Erickson, Arizona State
Hot Seat Rating: 3.5
2012 Commitments:12
Top Recruit: Wide receiver
Kenny Lawler
Erickson is in an interesting position. With a team featuring plenty of upperclassmen and what is expected to be a very good defense, the Sun Devils are likely the favorites for the first
Pac-12 South
title. Erickson has only had one really good season in Tempe and never has been able to break through and grab elite talent on the recruiting trail. He put together a class last year that mostly addressed needs and was solid but not spectacular. The 2012 class could be one of the better ones Arizona State has pulled in recently, getting off to a good start and leading the Pac-12 with 12 commitments. This is an offense-heavy class with plenty of skill players and he recently added quarterback
T.J. Millweard
, who was committed to
Virginia Tech
.
Mark Richt, Georgia
Hot Seat Rating: 3.5
2012 Commitments:10
Top Recruit: Defensive tackle
Jonathan Taylor
Richt responded to critics and managed to put together what might have been his best recruiting class ever last year. It was a strong year for talent in Georgia and the Bulldogs took advantage, grabbing a "
Dream Team
" of recruits. The prize was running back
Isaiah Crowell
, who many think can come in and make an instant impact on offense after the in-state team fought off powers like
Alabama
and
Florida State
for his services. The 2012 class hasn't seemed to build off the momentum however, as Georgia has already lost out on some in-state commitments and are behind in others. There's plenty of time for the tide to turn, however, and as Richt proved last year, he can close down the stretch.
Ron Zook, Illinois
Hot Seat Rating: 4.0
2012 Commitments: 4
Top Recruit: Defensive back
TaJarvis Fuller
Zook is known as a good recruiter and he put together a diverse class last year. It's not a great year for talent in the Midwest and Zook is using the southern ties he had while at Florida to make Illinois active in the South, especially in Georgia. He made a nice pickup with Fuller and with a bit of instability in the
Big Ten
, could nab a prospect or two that might have gone elsewhere. Zook will ultimately have to win to keep Illinois in the minds of the rising seniors but he's on pace to pull in another solid class this year.
Mike Locksley, New Mexico
Hot Seat Rating: 4.5
2012 Commitments: 0
New Mexico is New Mexico so it will always be tough to get recruits to come, especially in the midst of a 2-22 run under Locksley. But credit to the head coach and his staff, they were able to reach into California, Florida and Maryland among other places to get some talent. Known as a superb recruiter in the Maryland/Washington D.C. area, the fact that Locksley got five-star tackle
Cyrus Kouandjio
to make a visit to the school and keep the Lobos in his final five was quite the accomplishment. The school doesn't have any commitments in 2012 and it will be interesting to see how many wait to see if the hot seat gets too hot for Locksley to stay on it.
Luke Fickell, Ohio State
Hot Seat Rating: 3.5
2012 Commitments: 8
Top Recruit: Running back
Warren Ball
Fickell had his fingerprints all over Ohio State's last recruiting class as co-defensive coordinator and was the lead recruiter for one of the Buckeyes' key linebacker commitments,
Ryan Shazier
from Florida. He is dropped into a very difficult situation however, first following a beloved and successful head coach in Jim Tressel and second, dealing with the looming threat of
NCAA
sanctions. While he managed to keep the prize of the 2012 class, top 100 offensive lineman
Kyle Kalis
, in the the fold for awhile, he ended up decommitting and now the Buckeyes are seeing the state of Ohio raided by other Big Ten programs like
Michigan
,
Nebraska
and
Michigan State
. Fickell is a tried and true Buckeye so he knows how to sell the school, the only question is if he'll be successful at it and that remains to be seen.
Rick Neuheisel, UCLA
Hot Seat Rating: 4.0
2012 Commitments: 3
Top Recruit: Running back
Steven Lakalaka
Just about everybody thought UCLA was on the right track when Neuheisel managed to pull in two top 20 classes in 2008 and 2009. Since then however, things have reversed course on the field and off. Last year's class did manage to get two big talents from out-of-state in defenisve tackle
Kevin McReynolds
and top 100 quarterback
Brett Hundley
but it was by no means a deep and talented class. While it was going to be small due to scholarship numbers, Neuheisel just didn't seem to be able to close with some players and the Bruins are barely on the map in California this year, taking a back seat to Arizona State,
Washington
,
Oregon
and their crosstown rival
USC
. It's getting close to a make or break year for UCLA and Neuheisel and he can only hope that Hundley is as advertised and can make a difference in the win column this season.
Paul Wulff, Washington State
Hot Seat Rating: 5.0
2012 Commitments:5
Top Recruit: Wide receiver
Dalen Jones
It's not easy to recruit to the Palouse though Wulff has added some nice pieces over the years, but just can't seem to find enough of them. Wulff reached into Florida and California very well last year and even managed to grab highly regarded offensive lineman
Alex Mitchell
out of nearby Portland. That said, Wulff is on the hot seat (a very hot seat) and, because it's the hot seat at Washington State, that generally takes the school out of the running for any big time recruits. They've done well all things considered and have extended early scholarships to several California and Florida athletes in hopes of building up an early relationship. It will always be tough for Wulff to recruit and doing so while worried about job security is extra tough.