Weekend Schedules: Friday | Saturday | Sunday
Let's call this the Ilya Bryzgalov tour of fun.
It started with Bryz facing his former team on Thursday night, the Phoenix Coyotes. His old pals still in the Phoenix red? Let's just say not all of them had flattering comments to make about their former netminder.
There was Derek Morris (no, not THAT Derek Morris) talking about how Bryzgalov gives up soft goals. He even went so far as to say he's glad Bryzgalov is gone and Mike Smith is in. Adrian Aucoin wasn't the most complimentary either.
In the end Bryzgalov got the last laugh with a 2-1 win. Afterward he was only complimentary of his ex-squad.
"It's my former team and not an easy team to beat," he said.
That was Step I, reunion with the team he used to play for. Step II is visiting the city he could have played for, but never would have on Saturday afternoon.
You remember earlier this year, before the Thrashers became the Winnipeg Jets, don't you? Most of the speculation was that the Coyotes, not the Thrashers would become the Jets. So Bryzgalov was asked for his thoughts on the matter and considering he's usually always candid, the response he gave didn't exactly sit well with the 'Peggers.
Here is what he said in April.
"You don't want to go to Winnipeg, right?" Bryzgalov said. "Not many people live there, not many Russian people there. Plus it's cold. There's no excitement except the hockey. No park, no entertaining for the families, for the kids. It's going to be tough life for your family.

"I better go to somewhere in Russia, KHL, to be honest. Because KHL is Russian people, it's family, friends. Even as a cold place, I can speak to people in Russian language."
Think the people in Winnipeg forgot about that? Of course not. After all, there is no excitement except the hock ...
Bryzgalov remembers it too, and he did back off a bit on Friday.
"I didn't mean it and I didn't want to offend anybody," Bryzgalov said (from Ted Wyman at the Winnipeg Sun). "I'm pretty sure it's good people, beautiful people live in Winnipeg. I'm pretty sure it's passionate fans. I didn't mean it to be honest. That's it."
Since returning to the NHL this season, the Jets fans have enjoyed once again the art of goalie taunting. No doubt they will serenade the goalie with "Illlll-yaaaa" chants all game long, but they could have just a little more juice in store. A popular Jets fan forum has taken to posting sign ideas for fans at the game. I'm envisioning a WWE event or ESPN College Gameday site with signs all over in the crowd. Make it happen Winnipeg.
Of course, with all of the anticipation in Winnipeg for the chance to boo and jeer Bryzgalov, it will probably be Sergei Bobrovsky that starts.
As far as the game on the ice is concerned, the Jets are playing better hockey these days and have been getting the habit of knocking off some of the traditionally stronger East teams at home. They come into the game against the Flyers -- the top team in the East at the moment -- having won the last two home games, both against teams in the playoffs last year (Capitals and Lightning). They also knocked off the Penguins at home early in the season.
When you add in the absence of Jaromir Jagr for the game and it won't be a walk in the park (get it?) for Bryzgalov and the Flyers.
Back on track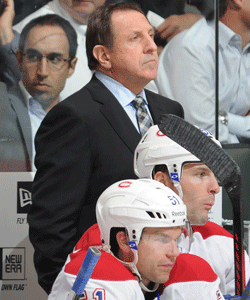 It was only a couple of weeks ago that the Canadiens were in disarray. They were off to their worst start in more than 60 years. Assistant coach Perry Pearn was fired. Jacques Martin seemed to be only a couple of losses away from meeting the same fate.
Since an October 24 loss to the Florida Panthers and the subsequent dismissal of Pearn, the Canadiens have very quietly rebounded. I mean, when have you known the Habs to do anything quietly? They have posted a 7-3-1 record since that game and have climbed within three points of the division-leading Sabres.
The natural connection to make is to see the team has done well since firing Pearn, so that must have something to do with it. While I don't want to completely dismiss the idea -- there could be some credence to the belief that it was a "wakeup call" for the Habs players -- it probably is more coincidental than anything. Montreal just happened to have a rough patch at the beginning of the season.
This is where I caution you not to get too high with the highs and too low with the lows. The Canadiens have evened themselves out and are at .500 (if we treat OT losses as ties). Of course, that doesn't mean Martin's seat isn't still hot, it's just not scalding at the moment. He's been passed by Scott Arniel and Paul Maurice in the hot seat rankings.
We will get a better idea of which team more closely resembles the truth: the one that started the season or the one that is 7-3-1 of late. That's because they will go up against arguably the hottest team in hockey on Saturday night. What the Rangers been up to lately? Oh, they're just on a seven-game win streak.
Roller coast of tough love
Speaking of highs and lows, check out the Detroit Red Wings. Talk about a roller coaster of emotion.
The Wings came out of the gate winning their first five games. They followed that up with six straight losses before rebounding with four consecutive wins. Now they have lost two in a row. Pretty amazing for a team to be 17 games in without anything but a streak.
Overall, they have lost five in a row on the road.
"It's tough, nothing that we want to do," said Henrik Zetterberg of the road losing streak. "We have another chance Saturday [in Los Angeles] to turn it around."
That will come on Saturday afternoon against an on-the-up Kings team, 4-1-0 in their last five.
"Do we want to be a good team or not?" coach Mike Babcock said about what will be the subject matter of a team meeting (Detroit News). "Life doesn't just go on good for you. You make a decision it's going to go good for you. You decide for yourself you're going to be successful. You decide for yourself that you're going to make a difference and have a good career. No one just gives you stuff.
"The other teams are trying to. We have to make some decisions."
Ovie debate continues
Alex Ovechkin is drawing a lot of heat these days, and unfortunately for him it isn't over goal celebrations.
At first glance, his numbers don't seem bad (seven goals and seven assists in 17 games) but this is Ovie we're talking about here. Obviously a lot is expected of him.
Right now he is struggling. And, maybe as a result, the Capitals are struggling. Are the two connected? Somewhat. Obviously No. 8 is a big part of the Caps. They especially need more than one goal in a five-game span, such as his current stretch.
So what better place than Toronto for Ovechkin and Washington get find their confidence again? Since James Reimer went down, the goaltending in Toronto has returned to its pre-Reimer state: atrocious. Moreover, Ovechkin has always put up good numbers at the Leafs' place, scoring 23 goals in 23 games there.
It would help ease some of the increasing hysteria in "the nation's hockey capital" if he and the Caps could bust out the scoring stick again in a Hockey Night in Canada showcase.
How much more for Maurice?
That's becoming a popular question in NHL circles right now. Is Hurricanes coach Paul Maurice one or two more losses away from being fired?
Something's gotta give right now in Carolina. The 'Canes have lost six of seven and their star player, Eric Staal, is still struggling to make much of an impression. This was supposed to be a year of progression, not the other way around. After just barely missing the playoffs last spring, the hopes were that the 'Canes would again contend for the postseason as presently constructed.
It would probably go a long way toward calming the panic that is setting in not only among the fans, but GM Jim Rutherford as well, if they handle the Buffalo Sabres on Friday night. As you'll recall, Rutherford has fired Maurice before, he could certainly do it again.
We're going streaking
As the great Lou Brown said in Major League: "Gentlemen, we won yesterday. If we win today, that's two in a row. If we win tomorrow, that's what they call a winning streak. It has happened before."
So with that obvious definition in mind, here's a look at the winning streaks in play.
Flyers: As mentioned above, they play in Winnipeg on Saturday and they enter having won three in a row.
Rangers: Also covered, they have won seven games in a row and take that streak into Saturday's tilt against the Habs.
Boston Bruins: The B's also enter the weekend winners of their last seven games and only have one game to play, that's Saturday at the Islanders.
Ottawa Senators: Yes, the Sens have found themselves on another run, winning three in a row. Their lone weekend game comes on Sunday night in Vancouver.
Chicago Blackhawks: Riding a four-game streak, the Blackhawks will have to do the Alberta two-step with the Flames on Friday and Oilers on Saturday.
St. Louis Blues: That's right, that Ken Hitchcock move is working out pretty well. The head to Minnesota having won three consecutive.
Kings: Lastly (boy there are a lot of streaks right now) the aforementioned Kings also take a three-game run into their Saturday game against the Red Wings.
Among the losing steaks, we'll just list the top (or bottom) and that's the Oilers, losers of four in a row.
Photo: Getty Images
For more hockey news, rumors and analysis, follow @EyeOnHockey and @BrianStubitsNHL on Twitter.