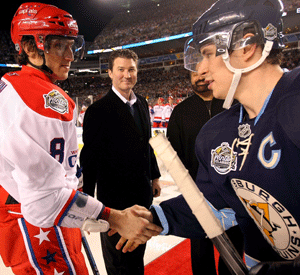 In one hour of the Board of Governors convening in Pebble Beach, Calif., the NHL changed radically. It actually reverted back to the way it used to be, just with a lot more teams (you can thank expansion).
So with all that said, here's our Winners and Losers of realignment. Let's get right to it.
Winners
Detroit Red Wings and Columbus Blue Jackets
They wanted more games within their time zone and fewer trips to the West. Mission accomplished. Now those two will be with teams in Chicago, St. Louis, Dallas, Nashville, Minnesota and Winnipeg. With only one visit to every non-conference arena, that means each team will only play four games in the Pacific time zone as opposed to the eight they currently play.
Dallas Stars
In that same vein, the Stars have to be thrilled with this plan. Considering they have been playing 11 games in the Pacific time zone, they now also cut that down to four games. These things will greatly help the fan bases watch more games and, in theory, more fan support.
"Everyone knew our position on this," GM Joe Nieuwendyk said. "We wanted out of the Pacific Division. This makes total sense for us."
The mid-Atlantic
Particularly the Washington Capitals. Under the original four-conference format, the Keystone State rivalry was broken up and the Capitals and Penguins were in separate divisions. Not under this. Now the Atlantic Division is staying completely intact and it's adding the Capitals (Carolina Hurricanes, too). Who doesn't want to continue to see six games a season between the Flyers and Penguins? Now we'll also get six between the Penguins and Capitals. The Caps will now get to rekindle all those old Patrick Division rivalries.
"We understood, particularly in the mid-Atlantic region, which rivalries were very heavily embedded," Gary Bettman said.
Displaced fans
Now if you're a Devils fan living in Los Angeles, you are guaranteed you will get a chance to see New Jersey play in person every season without having to hop on a flight. The same can be said for all of those ...
Northeastern snowbirds
All those people from the Northeast and Canada that have their parents living in Florida? This will be nice for them. There are obviously a lot of people who migrate south for the winter and they will get an extra visit to the teams in Florida. The local scribes will appreciate this, too. Many have already dubbed this the snowbird conference.
Losers
The Florida duo
More on realignment
Ray Ratto
Realignment in NHL creates chaos beyond tumult in other leagues Read
Stories
Of the four votes that were against this realignment plan, it's a good bet that two of them came from the Panthers and Lightning. The two teams still have each other, but that's it. Now their closest division foes are in Buffalo and Boston. There will be a lot of long flights to Canada and New England.
But there are two bits of good news for the Florida teams. They will sell a few more tickets, albeit to opposing fans. The Maple Leafs, Canadiens and Bruins will be much bigger hits for them than the Hurricanes and Jets.
The other bit is more games in Canada for the players. At least it's good news to Panthers center Stephen Weiss. "We do a lot of travel anyway. I think that would probably make it even more," Panthers center Stephen Weiss said. "But that's the nature of the beast. It's where we live, and you've got to do what you've got to do."
The players
The only potential speed bump in all of this? The NHLPA. It won't be fond of all the increased travelling, which there will be or pretty much everybody. With guaranteed trips to every arena, that's a few additional trips cross country. It will hit players at some point, travelling is already one of the worst parts of the job.
Expansion foes
Yes, this format seems perfect for either two more or two fewer teams. And contrary to popular belief, contraction isn't likely to happen. So more expansion is possible. The same cities will be the candidates; Kansas City, Quebec City (if they don't get the Coyotes to move to them), Seattle, Las Vegas and Houston. Arenas are needed in most of those places -- K.C. has that part covered -- first, so it wouldn't be for a few years at least. But it could happen eventually. Andy Strickland of True Hockey says that is already being discussed.
Islanders, Devils and Hurricanes
OK, all isn't completely perfect for that Atlantic Division. These three teams are at a pretty big deficit when it comes to resources vs. the other teams in their division. It's going to be tough sledding for these teams to get into the playoffs with the Penguins, Flyers, Rangers and Capitals around. This is probably akin to the Group of Death that you always hear about in the soccer World Cup.
Photo: Getty Images
For more hockey news, rumors and analysis, follow @EyeOnHockey and @BrianStubitsNHL on Twitter.