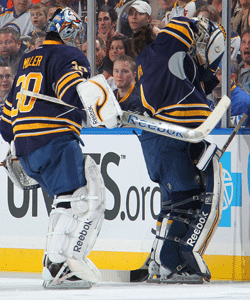 If you happened to have a family vacation or weekend-long wedding to attend -- anything to cause you to miss the weekend in the NHL -- here is what you missed.
The Columbus Blue Jackets seem on the verge of upheaval. There might be a goalie controversy in Buffalo. Georges Laraque is talking steroid use and, well, at least John Tortorella was the same as usual, so that's comforting.
Yes, just a ho-hum weekend.
Let's start in Buffalo, shall we?
The Sabres had a double dip over the weekend, playing Friday at home against Calgary then Saturday in Ottawa. It wasn't a surprise that coach Lindy Ruff went with Jhonas Enroth over Ryan Miller in Friday's game. Enroth has played well of late while Miller hasn't. It was surprising, however, when Enroth got the nod again on Saturday. Usually back-to-backers are split among goalies, especially when there is a quality backup in play.
At first glance, you think little of it. Miller is struggling and Ruff is just going with the better option at this point. Especially in early November, that's nothing to write home about. That's until you see things like this, from Sabres beat writer John Vogl of the Buffalo News.
"One of the Sabres admitted to me after last night's game: The team has just been playing harder in front of Enroth than they have for Miller."
That doesn't sound good. It could mean that Miller has been so good in the past that the team has become somewhat complacent when he is in the game. Not exactly what you would want to hear. You want your team to play hard all the time for any goalie. But it beats the alternative explanation of the team not playing for Miller for the other reasons. The reasons that bring about the use of words like Schism.
The Sabres are high on Enroth. That's no secret. If nothing else, he has earned himself more playing time with his 4-0-0 start this season. His GAA is 1.41 and he has a save percentage of .952. He hasn't surrendered more than two goals in a game this season.
But it's not as if Miller suddenly became bad. He has hit a rut. Every goalie does. He was solid to start the season when he was 4-1 with a 1.61 GAA. Since then he's 0-4 and has a GAA at 3.91. It happens.
I don't think many believe Miller will continue to struggle and Enroth will get the lion's share of the work. No, Miller is not likely to repeat his 2009-10 Vezina-winning season. There's a reason why seasons like that are called career years, but he's still only 31 and has been considered one of the game's best netminders for the past few years. That's why it's kind of a big deal when there appears to be a controversy.
But the good news for Buffalo out of all of this is that we know there are two good keepers in town.
Just when you think they can't get any lower ...
The Columbus Blue Jackets are in a world of hurt. They were obliterated by the Philadelphia Flyers on Saturday 9-2. Perhaps making matters worse, they had to see Jakub Voracek have his best game as a Flyer since being acquired from the Blue Jackets and the draft pick Philly also picked up in the trade, Sean Couturier, abused them.
In all, it was the 12th straight road loss for the Blue Jackets. From the Other Unbelievable Stats Department, it was the 10th time in 13 games that Columbus goalie Steve Mason has given up a goal on one of the first four shots he faced. To see even more on how rough it has been for Mason this season, check out Eye On Hockey's Adam Gretz's post on Mason. Bru-tal!
"We've hit a lot of bottoms this year," Blue Jackets coach Scott Arniel said, "and this is another big one."
Rumors were circling last week that the end was nigh for Arniel and maybe GM Scott Howson. They each made it through the week. But this? This might be too tough for them to survive.
Last week the word was that Ken Hitchcock and Craig Button were the names being mentioned to replace Arniel and Howson in the case of a dismissal. Now the name being tossed out, at least for the GM role, is Kings executive Ron Hextall. Kings GM Dean Lombardi said he hasn't been contacted by anybody about Hextall's availability.
Here is the problem I see in Columbus. I feel bad for Arniel, he just doesn't have a team that can compete. While most feel that it's a roster that could stand to be blown up and a fresh start be undertaken, that won't be easy. There are a lot of big contracts on the roster. It still amazes me, but the Blue Jackets are pushing the salary cap.
Obviously things need to be fixed, but I'm not sure there is a quick fix to be found. Maybe the best thing that could happen to them at this point is to get the top pick in the draft and get a potential superstar in Nail Yakupov, the consensus top prospect right now.
Talk about Staaled
Eric Staal is off to one tough start.
The Hurricanes captain still hasn't scored even strength this season. All three of his goals came with the man up. At least he had two assists in Sunday's 5-2 loss to the Stars, but his league-worst minus-14 dropped even further to minus-16.
Is it the absence of Erik Cole on his line? The captain clearly hasn't been the same this season without Cole, who signed with the Canadiens in the offseason.
We're at the point where slow starts are no longer categorized as just slow starts. They are starting to be cause for concern. Staal is supposed to be the big gun. He has led the 'Canes in scoring three out of the last four seasons. But right now he just looks off. Against the Stars, he drew a two-minute minor that seemed to be out of frustration.
At the same time, his Hurricanes also ran into the red-hot Stars, who became the first team to 10 wins this season. If anybody doesn't believe in Dallas yet, I suggest you watch them for a game or two. Loui Eriksson is for real and he and Jamie Benn make one heck of a duo.
Torts at it again
John Tortorella actually has the Rangers rolling along at the moment. His team has won three in a row, Saturday's 5-3 win over Montreal giving him the 100th victory of his career. So you would think that might make the often salty coach a little happier and forthcoming these days?
Come on. This is Tortorella we're talking about.
His pregame media availability lasted 43 seconds before the Habs game. All questions were met with either a nope, a shake of the head or just "no idea." That brought about a softball question to soften the mood. "What's your mom's birthday?" At least it yielded a smile, but it was another "I have no idea."
Oh Torts, don't ever change. Especially before the 24/7 series is done.
As for things on the ice, Torts seems to have found a nice little recipe by putting Marian Gaborik and Brad Richards on separate lines. It has keyed the Rangers' recent streak and has them looking more like the team a lot of people expected after this summer's moves.
Visor vision
Saturday night the Kings and Penguins played a doozie on the West Coast. Pittsburgh eventually won a great game that was decided in a shootout (collective groan now).
But during the game, the mandatory visor crowd got some more ammunition when Drew Doughty took a puck to the face.
Video courtesy of The Score.
It didn't save Doughty from being cut above the eye, but it might have saved his eye. It was a scary moment, but it's even scarier to think about what would have happened if he didn't wear the shield.
Of course, as you'd expect from any hockey player, Doughty wasn't removed from the game and helped the Kings pick up one point on the night.
Welcome back Bruins
Is this what wakes up the defending champs?
How good must it have felt for Boston to go into Toronto and rout the division-leading Maple Leafs 7-0? Really good I imagine.
Tyler Seguin recorded his first career hat trick. With the way he has been playing this season, that only seemed like a matter of time. He has clearly been their best player in the early going this year.
Sometimes it can be games like this that flip the switch. It was getting close to desperation time for Boston, it couldn't afford to fall any further behind. Now we wait and see if it rubs off and they show the form that made them so good a season ago.
Caps stop playing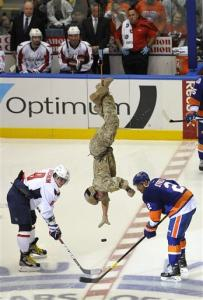 At least that's what Alex Ovechkin thinks.
The Capitals ran into the stone-cold Islanders, losers of six in a row before Saturday, and fell 5-3. Despite the loss, it might have been Ovechkin's best game of the season. He only had a goal on the night, but it was a solid performance.
He couldn't say the same about his team, however.
"I think we have pretty good start. We score two goals. After that, we just stopped playing and give them opportunities to score goals," Ovechkin said. "They're young, they're fresh and they want to win. After first period, we just stopped playing."
Maybe they were still stunned from that ceremonial faceoff. (We just wanted to show off this photo of an Air National Guardsman dropping the ceremonial puck. Awesome.)
Quote of the weekend
Arniel when asked about his job security after the 5-2 loss:
"Nice question, all right. Nice question. I'm not in charge of that. I'm worried about what I have to do tomorrow with this hockey team."
Photos: Getty Images/Deadspin
For more hockey news, rumors and analysis, follow @EyeOnHockey and @BrianStubitsNHL on Twitter.