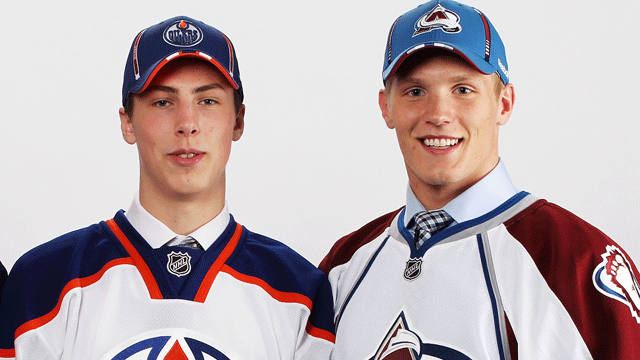 One of the rules of the CBA I love is the ability to give young prospects extended tryouts with the parent organization without risking a contract kicking in. It's a great opportunity for players to learn from some NHL experience and, in some cases, prove they are too good to be sent back to their junior team.
These players are known as "Slide-Risk" players. Here's what the CBA rule states specifically:
"In the event that an 18 year old or 19 year old player signs a Player Contract with a Club but does not play at least 10 NHL games (regular season and/or playoffs) in the first season under that player's Player Contract, the term of his Player Contract and his number of years in the Entry Level System shall be extended for a period of one year, except that this automatic extension will not apply to a player who is age 19 according to Section 9.2 by virtue of turning 20 between September 16 and December 31 in the year in which he first signs a Player Contract."
To summarize, if a player under the age of 20 doesn't play more than 10 games at the NHL level, his contract doesn't kick in. So that's one more year to hold off restricted free agency. What's not to like about the provision?
This season, there are 12 players who could be returned and have their contract years delayed. Without further ado, let's see the names (in alphabetical order, of course).
Brett Bulmer, Minnesota Wild: Bulmer was selected 39th overall by the Wild two drafts ago, but his toughness and energy seem to be welcome as far as first-year coach Mike Yeo is concerned. Bulmer seems like he has earned a spot on the third line, although he hasn't been playing all that much (9:38 per game). He does have a pair of assists in that time. He might not play a whole lot, but Yeo talks pretty glowingly about him. Verdict: Wild ride continues.
Brett Connolly, Tampa Bay Lightning: This is an iffy call. Connolly, taken sixth overall two drafts ago, has the skill. That's evident by his playing alongside Steven Stamkos and Martin St. Louis at times already this season. Here's what coach Guy Boucher told the Tampa Tribune: "He eventually will be an NHL player. Now will he be an NHL player starting this year for a long time? It's up to him and it's up to, I think, circumstances, too, for us to see if he can manage it because we don't want to hurt the kids." Verdict: 50/50 still.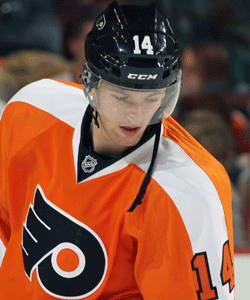 Sean Couturier, Philadelphia Flyers: The Flyers' top pick in this summer's draft might have surprised a few by earning such a strong look from the staff in Philly, but he has continued to impress. Couturier at this point seems like a fixture already on the team's penalty-killing unit and he is averaging 14:53 minutes on ice per game. He also has a goal and two assists through the first five games. Verdict: Looks like a lock to stay.
Erik Gudbranson, Florida Panthers: The rough-and-tumble defenseman who went third overall two years ago has found himself a defensive partner in Ed Jovanovski, the veteran the Cats brought in this summer. He has only managed 11:49 of ice time in five games, but that's partly because he has racked up 24 minutes in penalties already, getting himself into a pair of fights against the Lightning. Verdict: There seems to be no inclination to send him down. Fine in Florida.
Ryan Johansen, Columbus Blue Jackets: He has played in only three of the Blue Jackets' six games this season, getting on the ice for just 8:18 per game. If he sticks around, his role won't be a big one, likely finding a home on the third of fourth lines. He is their big prospect in Columbus, but he might benefit from more time in the WHL, especially if the team isn't committed to playing him night and night out. Verdict: Could go either way still.
Gabriel Landeskog, Colorado Avalanche: Landeskog was the player who was universally dubbed with the "most NHL ready" tag prior to this past summer's draft. The expectation for whichever team took him, he would become a fixture almost immediately. That still seems to be the case in Colorado as Landeskog is playing close to 17 minutes a game, has shown solid speed and strength and amassed three points (two goals and an assist). Things are going good in Colorado with him there, that should say enough. Don't mess with a good thing. Verdict: Get comfortable in Denver, kid.
Adam Larsson, New Jersey Devils: Many believed the Devils got a steal by grabbing Larsson with the fourth pick of the draft this summer. But the three that went before him look pretty darn good too, so it's understandable. But that doesn't mean he might not be the best rookie of them all. The Calder candidate has been averaging a whopping 24:14 of ice time with New Jersey and is expected to be a rock on the blueline at the Rock. Verdict: Jersey boy for sure.
Nino Niederreiter, New York Islanders: The fifth overall pick two years ago was given an extended look last season when he played nine games for the Islanders, totaling two points. He was expected to earn a roster spot this year but he has yet to play because of a groin injury. When he's ready, he'll get his nine-game tryout started and they will go from there. Verdict: Good chance he's staying on the Island.
Ryan Nugent-Hopkins, Edmonton Oilers: There was some skepticism if Nugent-Hopkins was ready for the grind of an NHL season but the Oilers would keep him anyway, it's important the franchise show the future. Well if he's shown anything in the first few games it's that he's good enough to stick around on his own merits anyway. He leads the team in scoring thanks in part to a hat trick already in his career. Verdict: Bundle up for an Edmonton winter.
Mark Scheifele, Winnipeg Jets: The Jets turned lots of heads with their selection of Scheifele early in the draft, but he was impressive during camp and the preseason. So he earned his right at an extended look from the team. He does have a goal on the power play but he has averaged just 11:25 of ice time. "We'll do what's best for him," was coach Claude Noel's cryptic response to Scheifele's place. Verdict: A little more seasoning in juniors before a full season in the NHL.
Devante Smith-Pelly, Anaheim Ducks: It wasn't long ago that Smith-Pelly seemed like a bit of a long-shot to make the roster. But he's giving his best effort to make it a tough call on the staff. He has seemed to work well with Andrew Cogliano and Andrew Gordon on the third line. Averaging a little more than 11 minutes per game, he has picked up one assist. Verdict: Have a feeling he stays since he can't be recalled if he's sent to juniors again. Few more games will tell the tale for sure.
Mika Zibanejad, Ottawa Senators: This is a tough call. From a physical standpoint, Zibanejad seems ready. This hit from his European days pre-draft drew a lot of attention. And earlier this year, GM Bryan Murray said Zibanejad would stay with the Sens. But with just one assist in 12:35 per game and Ottawa being as dreadful as it has been, you wonder if he wouldn't benefit more by being sent down. Verdict: Should probably return to Sweden but gut tells me he stays in Ottawa.
Photo: Getty Images
For more hockey news, rumors and analysis, follow @EyeOnHockey and @BrianStubitsNHL on Twitter.