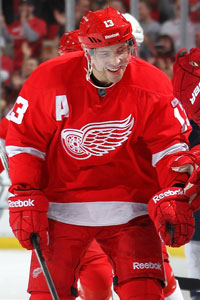 To recap: Datsyuk is a joy and a pain to play against all at once. (Getty Images)
This Pavel Datsyuk fellow is a pretty good player.
In the NHL Players Association's annual poll, Datsyuk was voted as the best in six of the superlative categories. In addition to being named the most difficult player to play against and the league's smartest player (with a strong 45 percent saying as much) he was also voted the hardest to take the puck from, toughest forward to play against, the cleanest to play against and he was voted the toughest to stop by goaltenders.
What, no interesting man in hockey?
The Bruins and Rangers were also popular among the players for some of the superlatives. No surprise here, but Zdeno Chara was named the hardest shot, Milan Lucic called the toughest player in the league (ahead of teammates Chara and Shawn Thornton), Patrice Bergeron the most underrated player and Chara the toughest defenseman to play against.
For the Rangers, Marian Gaborik was called the best skater as well as the fastest, Henrik Lundqvist was named the most difficult goalie to score on and John Tortorella was voted as the coach who demands the most from his players.
There are a lot more categories that were voted on and you can check them all out here, including the top five vote getters in each category.
But another worth sharing here is definitely the biggest surprise in my eyes. A total of 53 percent of the players do not think the instigator rule should be removed from the game. Considering how vocal a lot of players have been in their dislike for the rule, it was certainly an eye-opener for me.
What wasn't shocking, however, was to see Datsyuk dominate the voting. Fans love the guy because he's a joy to watch, media members love the guy because he's a good quote and apparently players love the guy because he does everything well. If there were a player that this stupid cliché ever fit perfectly, it's Datsyuk: He plays the game the right way.
For more hockey news, rumors and analysis, follow @EyeOnHockey and @BrianStubitsNHL on Twitter.