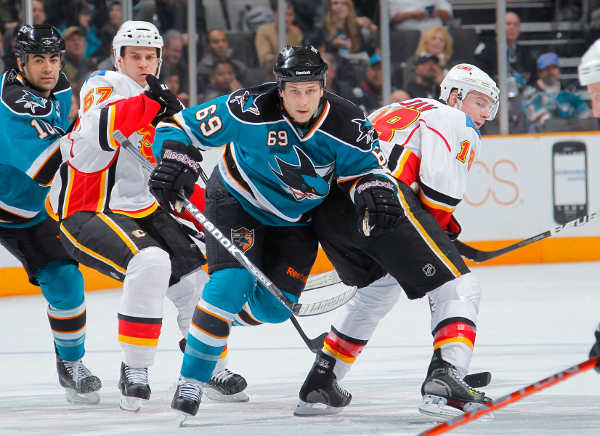 Andrew Desjardins
' goal was just another tally in a 6-3 San Jose
Sharks
victory Wednesday that further dimmed the Calgary
Flames
' chances of the making the postseason -- at least until the 24-year-old center skated away from the net after his first career goal.
That's when one of the rarest jersey numbers in hockey history came into full view: No. 69.
Desjardins is thought to be one of only two players in NHL history to don the number. The other,
according to azhockey.com
, was enforcer Mel Angelstad, whose hockey career spanned all of two games with the Washington
Capitals
during the 2003-04 season.
Desjardins told CBSSports.com after last night's game that it wasn't by design -- or at least his design.
"I came into camp last summer and that's what I got," said Desjardins, minutes after his first career point of any kind in the NHL. "As numbers go, that wouldn't have been my choice."
Desjardins, however, wasn't about to complain about the unusual digits.
His route to the NHL was hardly direct. Desjardins went undrafted out of juniors and played a season in the Central Hockey League for the Laredo Bucks. He caught on with the Sharks' AHL affiliate, the Worcester Sharks, in 2008-09 and has played there ever since -- minus a five-game stint in the ECHL -- and he usually wears No. 22.
Desjardins made his NHL debut Jan. 3 with the Sharks and was called back up on March 7 -- the same day his former linemate in Worcester,
John McCarthy
, was sent down. The two players, along with Dan DaSilva, made up Worcester's "Crazed Rats" line.
"I'm not exactly sure how that started," said Desjardins, who grew up in Lively, Ontario. "A coach or somebody said our line was tenacious and chased the puck down like crazy rats. It just kind of stuck. Fans started to call us that and they even made signs and brought them to the games."
Now, Desjardins just has an odd number, one that he hints he may attempt to change if he sticks with the club.
"You just have to laugh about it," Desjardins said. "It's not something I looked at and said, 'Oh, awesome!' You just have to take a step back and think that you're playing in the NHL and not worry what's on your back. My friends and family haven't been too bad about it. It's just something you don't see every day."
Wednesday's was Desjardins' 10th NHL game and it came against a Flames team that entered tied with two others -- the Anaheim
Ducks
and Dallas
Stars
-- for the eighth and final playoff spot in the Western Conference. He may be new to the NHL, but it didn't take him long to sense the Flames' urgency.
His goal midway through the first period -- where he took a pass at his own blue line, skated up the boards, spit two defenders and beat Flames goalie
Miikka Kiprusoff
over the blocker -- put the Sharks up 2-1. A goal by
Cory Sarich
tied the game about four minutes later before the Sharks pulled away.
"To be able to play in these types have games has been exciting and challenging," Desjardins said. "(The Flames) didn't give up and every game has been like that. That's the way hockey is this time of year. There are a lot of desperate teams."
The Ducks, who have been one the league's most exciting teams to watch over the last several days, reached overtime with a tally by
Teemu Selanne
with seven seconds left before rookie
Cam Fowler
clinched a 5-4 victory over the Stars in OT. That leaves the Ducks alone in eighth with 87 points, one point ahead of the Stars and two in front of the Flames.
WEDNESDAY'S RESULTS
Vancouver 2, Detroit 1
Chicago 4, Florida 0
Anaheim 4, Dallas 3 (OT)
San Jose 6, Calgary 3
-- A.J. Perez
Photo: Getty Images