Toronto
Maple Leafs
GM Brian Burke declared Wednesday that Ron Wilson would back next season, even if the club falls short of the playoffs for a sixth consecutive season.
"I said back in the fall, we would not consider a change, even when all the hounds were baying," Burke told
The Globe and Mail
. "I feel the same way now. Ron is coaching this team next year."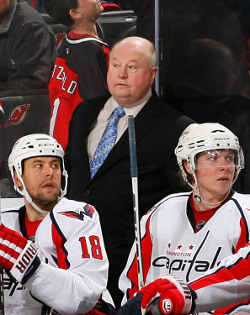 It's hardly a surprise. Burke and Wilson were teammates back at Providence College and their friendship extends decades. Even if Wilson was already coaching in Toronto when Burke was hired as GM in November 2008, Burke wouldn't have wanted anybody else for the job.
Other coaches around the NHL may not be so lucky come season's end. Here's a roundup of coaches that may find themselves out of work not long after April 10, the final day of the regular season.
Cory Clouston, Ottawa Senators:
It's not only his position that is shaky. There are no guarantees GM Bryan Murray will back next season. The Sens, who surged into the playoffs and entered as the fifth seed a season ago, never found a rhythm this season -- and that's being charitable. Ottawa is in the basement in the East, so it's fair to say some changes are coming.
"A lot of things happened this year that put us in a situation where it didn't allow us to get into the playoffs," Clouston told the
Ottawa Citizen last week
. "No one feels worse about that than I do, or more responsible for it than I do."
Pete DeBoer, Florida Panthers:
He told reporters that he doesn't know if he'll be back. At least, he's honest. This is his third full season behind the bench in Florida and he has a 102-108-34 record through Wednesday. Dale Tallon, in his first full season as GM ,may have seen enough.
"I don't worry about next year. I sleep easy at night. I know how hard we have worked as a staff,'' DeBoer
told The Miami Herald recently
. "I think our team plays with structure and plays hard every night. They have all year. If that's not good enough, that's for other people to decide.''
Todd Richards, Minnesota Wild:
This seat got hot in a mere few weeks. The Wild were up to fifth in the West just a month ago before dropping to 11th and all but mathematically out of the playoff contention. (Minnesota also missed the playoffs last season, the first season with Richards was at the helm.)
"I knew this coming in when I took the job," Richards told the
Minnesota Star-Tribune
last week
. "Are there some things that I would change? Maybe. That's all in hindsight. For the most part, I'm comfortable and happy with the job I've done. It's not the results I want, by any means. It's not the way I want the team playing, by any means. But the opinions, the (hot seat), it goes with the job."
Then there's probably the only coach among the 16 playoff teams on the hot seat:
Washington Capitals coach Bruce Boudreau
.
Back at my previous stop, I piped up and asked questions to Boudreau and
principal owner Ted Leonsis
if a coaching change was afoot as the Caps were on an eight-game skid before Christmas.
Boudreau bristled and said in so many words
he doesn't worry about it and Leonsis preached patience.
That patience may have a limit and we'll put that at an entry into the second round -- and that could be generous. Boudreau could be let go if the Caps don't make it to the conference finals. They have made it past the first round only once in since Boudreau took over in Nov. 2007, including last year's first round exit after the Caps won the Presidents' Trophy. His departure would be a downer for local advertisers in the Washington area since Boudreau pitches everything from rug cleaning services to cars.
The hot seat that isn't: Jacques LeMaire, New Jersey Devils.
LeMaire's impressive turnaround of the Devils should result in some Jack Adams Award talk. Still, he had to be persuaded out of retirement and was non-committal last week about a return.
"No. I don't think so. Why not? Because it's not how the team is, how the team plays. It's not about the players, not about the organization. It will be only about myself at that point," Lemaire
told The Star Ledger
. "What will be good for me."
Finally, there's the lukewarm sect. These coaches will likely be back next season, although they may not have much room to do wrong in 2011-12:
Joe Sacco
(Colorado
Avalanche
),
Scott Arniel
(Columbus
Blue Jackets
),
Brent Sutter
(Calgary
Flames
)
Davis Payne
(St. Louis
Blues
) and
Jack Capuano
(New York
Islanders
).
Is there anybody else you'd want to nominate?
DETROIT LOSES BIG:
A couple guys named Wayne Gretzky and Mark Messier were teammates on the Edmonton
Oilers
that last time the Detroit
Red Wings
allowed eight goals in two periods.
Vladimir Sobotka
and
Chris Stewart
don't quite have the cachet, but they were part of St. Louis Blues team that accomplished the same thing in a 10-3 victory over Detroit on Wednesday.
"Thank God it's over," Detroit coach Mike Babcock told
The Detroit Free Press
. "It looked like it was never going to end there for a while. It was unacceptable. Any way you look at it — more than a touchdown — it's ugly."
Ugly and historic. The Red Wings lost 12-3 to the Oilers in March 14, 1986, the game they allowed those eight goals in two periods. The last time they allowed 10 goals in a game was also via a Gretzky-led team, the Los Angeles
Kings
who won 10-3 in Oct. 9, 1993.
WEDNESDAY'S RESULTS
New Jersey 3, NY Islanders 2
Buffalo 1, NY
Rangers
0
Carolina 6, Montreal 2
St. Louis 10, Detroit 3
Anaheim

4, Calgary 2
-- A.J. Perez
Photo: Getty Images