TOO GOOD FOR HIS OWN GOOD: Since Alexei Kovalev left the NHL to go to Russia's KHL, he fired some shots at Ottawa and then took plenty of shots in return. That's all on top of the criticism he's heard throughout his career. You know them: He doesn't play every game, he's hockey's Randy Moss, all talent and no heart, etc. Scott Cullen of TSN penned a column about Kovalev suffering the curse of being supremely talented and thus having expectations through the roof.
USA JUNIORS DROP: As the Junior camp rolls on in Lake Placid for Team USA and they try to whittle down the roster to the final 22, the Americans are playing some exhibition games. On Wednesday they squared off with the Swedes and fell 4-1. The only score of the U.S. came from Florida Panthers draftee Vincent Trocheck. The USA has two more games remaining at the camp, one rematch with Sweden and one against Finland.
SMASHING TICKET SALES: The Predators haven't had the best offseason on record, but it's not stopping them from selling tickets (Ticketnews.com). The numbers are up across the board for season ticket sales in Nashville, and in a rare site an NHL team is actually outperforming an NFL team (the Tennessee Titans). The team's first playoff series victory seems to be helping, as does the slight rebranding to further align themselves with Nashville's rich music history.
BIG RED BIRD III: The Detroit Red Wings showed off their new airplane on Wednesday that they will use this season, named Red Bird III. Take a look at these pictures (Hockey Town Blog). There are a multitude of reasons players want to go play for the Wings, but comfort in the sky like this will only hope give another reason.
DESERT SIGNING: The Phoenix Coyotes made a small move yesterday, re-signing forward Viktor Tikhonov to a one-year, two-way contract. In the AHL last season, he had 10 goals and 23 assists for the San Antonio Rampage. AZ Vibe says the deal contains a "European Assignment Clause" meaning if he isn't playing with the Coyotes, he can play in the KHL.
HOCKEY MEETS SOCCER: Perhaps soccer is just on the brain after Jurgen Klinsmann made his U.S. coaching debut last night and the announcement that NBC and the network formerly known as Versus will be showing MLS games. But check out these hockey-meets-soccer jerseys that were mocked up by majupra.imgur.com. Can't figure out why, but I find myself liking the nauseating Canadiens stripes (and red jersey).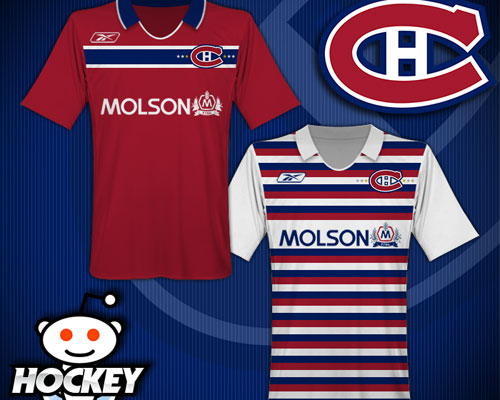 For more hockey news, rumors and analysis, follow @EyeOnHockey and @BrianStubitsNHL on Twitter.