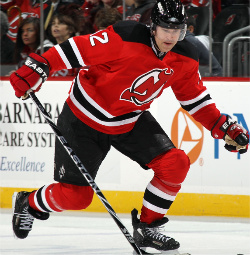 By: Adam Gretz
It didn't matter how many of their own players they re-signed, at some point the New York
Islanders
were going to have to bring in a player from outside the organization in an effort to reach the salary cap floor. And that's exactly what they did on Thursday when
it was announced that they had acquired
Brian Rolston
from the New Jersey
Devils
in exchange for forward Trent Hunter, a swap that gets the Islanders $3 million closer to the $48.3 million floor.
Following the trade the Islanders
now have to spend at least $5.9 million
and still have a number of restricted free agents to sign, including
Blake Comeau
and
Josh Bailey
. Rolston also becomes the highest paid player on the team.
Rolston, 38, has one year remaining on
a contract that pays him an average salary
of just over $5 million per season. In 65 games this past season he scored 14 goals to go with 20 assists, while he hasn't recorded more than 37 points in a single season since signing a four-year, $20 million deal with the Devils prior to the 2008-09 season. It was a contract that had become somewhat of an albatross for the Devils, and finding a taker for it helps clear additional cap space to finally reach a deal with restricted free agent
Zach Parise
.
Hunter has
two years remaining on his contract
and carries a cap hit of $2 million per season. He's appeared in just 133 games over the past three seasons, scoring 26 goals over that period, including one goal in just 17 games last season.
In the end, the focal point of this deal for both clubs is money. The Devils needed to shed some salary, the Islanders needed to take on some, and with a picked over crop of free agents, a trade like this seemed like it was inevitable at some point.
Photo: Getty Images
For more hockey news, rumors and analysis, follow @cbssportsnhl and @agretz on Twitter.