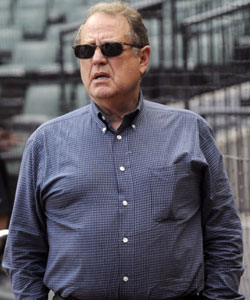 No matter how many times he goes away Jerry Reinsdorf keeps coming right back to the Phoenix Coyotes like an on-again, off-again girlfriend.
The owner of the Chicago White Sox and Chicago Bulls has returned once again to the negotiating table for the Coyotes. He has been the human equivalent to the hokey pokey in this story, coming in and out of the picture before turning himself around.
This from the Arizona Republic:
Speculation about Reinsdorf's interest has been tossed around in recent months, but a spokesman for the group on Wednesday confirmed for The Republic that they are in talks with Glendale and the National Hockey League.
Tony Tavares is also part of the group, Glendale Hockey LLC, according to David Leibowitz, the group's spokesman. Tavares is a longtime hockey and baseball executive who is interim president of the NHL Dallas Stars.
Not long ago it surfaced that there were two mystery suitors for the Coyotes, who have been owned by the NHL while the search for a new owner has gone on since 2009. A very short while later it was revealed one of the was former Sharks CEO Greg Jamison. Then a report soon surfaced there was also a Canadian group in the hunt. Now Reinsdorf is back.
Here's the good news for those in Phoenix: a Glendale spokeswoman had already said that public bonds wouldn't be necessary to finance the deals. That was what ruined the sale attempt to Matthew Hulsizer, the closest the negotiations have come to finding a conclusion.
Perhaps what's keeping Reinsdorf around is his relationship with his friend, commissioner Gary Bettman. Either way, we'll hope the rules of baseball apply and it will either be a home run or a third strike and Reinsdorf is gone for good, because this yo-yo-ing is getting tiresome. Well the entire sale process is, but especially Reinsdorf's flirtation. Talk about a tease.
Photo: Getty Images
For more hockey news, rumors and analysis, follow @EyeOnHockey and @BrianStubitsNHL on Twitter.