Calgary Flames (33-23-9) at Chicago Blackhawks (34-23-6)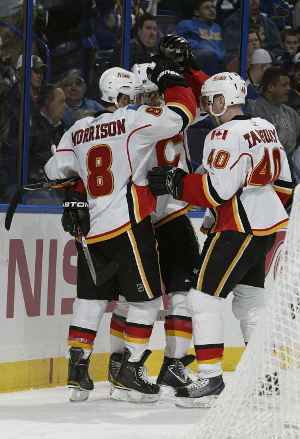 United Center, 9 pm ET
Calgary: 5th in West, 75 points (6-2-2 in last 10 games)
Chicago: 7th in West, 74 points (7-1-2 in last 10 games.)
BREAKDOWN: The game features two of the hottest teams going and they just happen to be jockeying for position in the Western Conference, where the bottom half of the standings shuffle around from night to night. (Idle Chicago dropped two slots last night alone.) Neither team has the best shot at catching the leaders in their respective divisions, making these games all so vital.
The Flames are coming off a 6-0 victory over the St. Louis Blues. The 'Hawks are winners of five in a row and this will be the first game for defenseman Chris Campoli, acquired at the deadline from the Ottawa Senators. He will likely be paired with Brian Campbell tonight, according to Tim Sassone of the Daily Herald.
Blackhawks captain Jonathan Toews has netted 11 points over the last six games. Flames winger Alex Tanguay is coming off a three-point night (one goal, two assists) and enters on a five-game points streak.