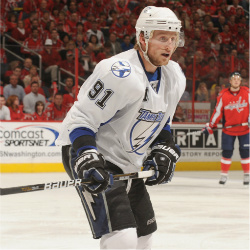 By: Adam Gretz
Tampa Bay
Lightning
forward
Steven Stamkos
has scored 96 goals over the past two seasons, and is already one of the most dangerous offensive players in the NHL at the age of 21. Earlier this offseason his production over the first three seasons of his career resulted in a brand new
five-year, $37.5 million contract
with the Lightning.
The fame that comes with being one of the top players in the league, as well as the brand new pay check, hasn't stopped him from spending his summer playing in a "beer league" baseball league in his hometown of Markhem, Ontario, where Stamkos buys uniforms, bats and picks up the post-game bar tabs.
Dave Feschuk of the
Toronto Star
checked out a game this past week, and the reviews of Stamkos' baseball skills are almost as glowing as the ones usually reserved for his ability on the ice.
From the Star
:
For the 21-year-old Stamkos, who played on three provincial championship baseball teams for the Markham Mariners from about age 11 to 13, the grand old game has long been a passion.

"He could have been better at baseball than hockey," said Adam Velocci.

"His dad wanted him to play baseball, but he loves hockey," said Velocci, the Green Beys' third baseman who also played on those championship squads.

Said Chris Stamkos, Steven's father: "Steven was smaller when he was young. Although he was good in hockey, I did think he had more natural instincts in baseball ... But then he grew, and he got more serious with hockey."
Whatever talents he may have had -- or still has -- for baseball, hockey fans, and especially Tampa Bay fans, have to be happy he started following the path he's currently on. Feschuk also points out that NHL players have to get written consent from their team to take part in certain offseason activities, including baseball, and that consent is usually given.
Stamkos, who plays left field, is apparently hitting .608 on the season and clubbed a three-run homer the night Feschuk attended.
Some other notable hockey-baseball connections: You may have heard a thing or two (in
every single game he played
) about Chris Drury's appearance in the Little League World Series, while it's pretty common for hockey players that share a city with a big league baseball team to take their hacks in the batting cage. A couple of years ago
Penguins
captian
Sidney Crosby
knocked one out of PNC Park
in Pittsburgh, while new Phoenix
Coyotes
goaltender
Mike Smith
managed to do the same back in June
.
(H/T The Big Lead, via PHT)
For more hockey news, rumors and analysis, follow @EyeOnHockey and @agretz on Twitter.