EVERYBODY HATES SEMIN? With such vilified D.C. sports Stars like Albert Haynesworth and Gilbert Arenas no longer in town, it's time to wonder who, exactly, is Washington's most hated athlete? That's the question being presented by Capitals Outsider with the conclusion being that it might very well be recently maligned Caps forward Alex Semin. While he's still in the minor leagues, I have a feeling that Nationals prospect Bryce Harper might be on that list some day, unless Gregg Doyel can change minds.
MARKET VIABILITY: Since the Thrashers moved, the Islanders lost their vote on a new arena and the Coyotes have been on the block for seemingly a decade, the idea of relocation is constantly floating around the NHL. One go-to destination is always former NHL home Quebec City. But according to a Business Journal study (h/t to Puck Daddy) Quebec is way down the list of markets capable of hosting. Granted, this is a study that folks solely on the monetary aspects, that's why Honolulu and Atlanta are "more viable" destinations, but it's interesting to see nonetheless, even if it's not very practical.
U.S. LADIES LOSE: In the rubber match of their Women's Under-18 Series showdown, the American women lost a 3-1 first-period lead to the Canadians and dropped the final game by a score of 6-4. Women's hockey doesn't get much attention, but USA-Canada is good in any hockey match and provides for a very equal matchup in the women's side.
FANS SEEING RED: The Florida Panthers have had a massive renovation this offseason, much of publicly on the ice. But they have done a lot off the ice for to reach the fan base as well and among the ideas was to create a couple sections of super seats. The Panthers' home arena, the BankAtlantic Center, is a year-round facility that hosts numerous concerts and shows in addition to hockey. SO the idea seemed smart enough: sell some seats that are yours for whatever event is happening at the arena. The only problem? Long-time season-ticket holders sitting in those seats are going to be forced to pay a substantially higher price or forced to relocate, or even give up their tickets. Litter Box Cats has more.
JERSEY JUGGLE: Having a hard time keeping up with the different sweater changes this summer? Me too. Thankfully icethetics has the rundown of all the new sweaters and the tweaks we will see this season, such as this one.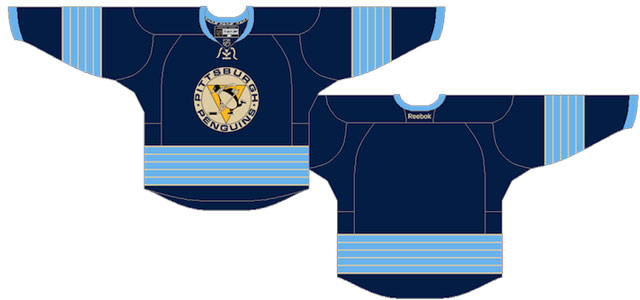 Photo: Icethetics
For more hockey news, rumors and analysis, follow @EyeOnHockey and @BrianStubitsNHL on Twitter.