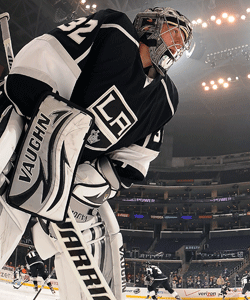 Schedules: Friday | Saturday | Sunday
It's tough to find a position in sports that lends itself to streakiness more than goaltender in hockey. For some reason, most of them fail to maintain an even balance throughout the course of a season -- Tim Thomas' consistently spectacular play notwithstanding. There season charts resemble roller coasters tumultuous enough to turn even the heartiest rider's stomach.
L.A. Kings goalie Jonathan Quick isn't immune to the turbulence. In the opening month of the season, Quick was absolutely phenomenal. He turned in three consecutive shutouts in mid-to-late October. For his work, he was given a day off on Oct. 25 and that good mojo seemed to vanish.
In his next seven starts and nine of 11, he surrendered at least three goals. Instead of being a large part of why they were winning early in the season, he became a large part of why they were losing. It was a quick reversal of fortunes, if you'll pardon the pun.
But like any streaker -- we're still talking goalies here -- he has reversed course again. Entering Saturday's matinee against the Montreal Canadiens, Quick comes in on a tear. Thanks to a shutout of the Sharks and a nearly flawless 41-save showing against the Panthers, Quick has stopped 74 of the last 75 shots he has seen. Go back a little further and he has actually saved 84 of the last 85 shots.
Here's what Pierre McGuire told an Ottawa radio station about how good Quick was in Thursday's win. "If the kings don't have Quick Florida wins that game. Kevin Dineen's team dominated with speed game".
Yes, he's back on his game. It really is no coincidence, then, that the Kings enter their game against the Habs having earned points in seven of their last 10 games.
They really need him to be the good Quick this season. The Kings have high hopes for this season. Many, myself included, saw them as legitimate threats in the Western Conference race this season. Despite the addition of Mike Richards to some other talented offensive players like Anze Kopitar and Dustin Brown, the Kings aren't going to do a whole lot of scoring. As of now, they are 24th in the league in goals per game with 2.32.
So much more than other goalies, when Quick is playing poorly it shows.
Assuming he'll get the start on Saturday, he'll have a chance to extend his already league-high shutout mark of four. The Canadiens haven't been very good this season, that's obvious. But moreover, they have really struggled on the road. You have to go back four weeks to Nov. 4 to find the last time the Habs won a road game in regulation.
In Kings terminology, that was near the beginning of the bad Quick days.
As a bonus for L.A., if the Kings are victorious, coach Terry Murray will have his 500th career victory.
The Bryz is back in town
When the Flyers visit Phoenix on Saturday Ilya Bryzgalov's arrival will be highly anticipated by the local crowd for the second time this season. Earlier this year he made his first trip to Winnipeg, a city he wasn't too fond of possibly moving to once upon a time. He didn't play in that game.
Now Bryzgalov returns to Phoenix, the city where he did play and left this past offseason. It was with the Coyotes that Bryz built up his reputation as one of the better goaltenders in the league before taking a bigger pay day with the Flyers.
This will be the second time Bryzgalov has faced his former team this season. Before the first meeting in Philadelphia, some of his former teammates had some less-than-kind things to say about Bryz. Derek Morris even admitted to being glad that Bryzgalov was gone.
Everybody knows the Coyotes don't draw a lot of butts to the seats. But this game should have a few more tickets purchases not only because of the abundance of Flyers fans who will be there -- rest assured, they will be -- but likely from a few of the Coyotes fans who just want to boo. Or thank Bryzgalov for his time there. Take your pick.
Welcome back, Bruce
We hardly forget ye.
Anaheim Ducks' coach Bruce Boudreau (looks weird) will make his debut with his new team on Friday with the Philadelphia Flyers in Southern California. One thing we know we'll see, at least to start the game, will be the reunion of Bobby Ryan with Corey Perry and Ryan Getzlaf on the top line.
In his final days as coach, Randy Carlyle had been trying to mix and match, trying to find the best results and cure the woes the lack of depth was causing his team. Boudreau, however, restored the top line to its old self and will try to make due.
Remember, when he arrived in Washington he didn't inherit a Caps team with a lot of depth. It was a very similar situation, actually, with some highly skilled forwards. They soared under his leadership. Will the same happen in Anaheim? We'll get the first glimpse on Friday when the Ducks host the Flyers.
Too bad HBO hasn't begun the 24/7 filming yet and depriving us a chance of more Boudreau, if only in a very small sampling.
Meanwhile, back at the ranch
In this case, the ranch would be Washington, Boudreau's old stomping ground.
The Capitals enter the third game of the Dale Hunter era still searching for their first win. If the third time's the charm, it will have to come at the expense of the Ottawa Senators, who visit the Caps on Saturday.
They are badly in need of a win, for their confidence if nothing else. The Caps have lost four games in a row and seven of their last nine. They have fallen -- get this -- five points behind the Florida Panthers in the Southeast Division, and that's even with the Panthers leveling off in recent weeks.
There has been a whole lot of difference so far for Washington, but they do appear to be focusing more on defense again and the effort has appeared to be better. But right now they just need a win.
Jason Chimera put it better than I can. "We're going to find ourselves packing an early golf bag."
Still searching Part II
Carolina Hurricanes new coach Kirk Muller is in the same boat as Hunter, 0-2 in his NHL career behind the benches. His task, on paper at least, looks a bit tougher than Hunter's.
That's because the 'Canes will host the high-flying Penguins on Saturday night. Not exactly the team you want to see when trying to bust out of a slump.
It has to start with getting the defense squared away. In the Hurricanes' current five-game losing streak, they have given up at least three goals in each game. Tomas Kaberle isn't working out, that's no secret. But that's only part of the defensive woes. The unit continues to leave Cam Ward high and dry in net behind them.
Nobody told Muller this was going to be easy.
More to prove
The St. Louis Blues have been ridiculously good since Ken Hitchcock came aboard. They are 8-1-2 under his leadership.
But Hitchcock is still delaying his excitement for the team's play until their next stretch of games. Starting with the Chicago Blackhawks on Saturday night, they will begin playing teams for a second time. That's when you can start to draw some conclusions.
"We're going to get a push," Hitchcock told the St. Louis Post-Dispatch. "You can surprise a team, but we're now playing a second wave. When we start playing the Chicago's and Detroit's again, now we'll have a look. They'll be ready for us. They won't be surprised by our game
What's shocking about it all is that by the end of the weekend, the Blues -- 14th in the West when Hitchcock was hired -- could be leading the Central Division. With their crisp and disciplined play, that's certainly a possibility.
We're going streaking!
New York Rangers: It took them a few games to get going at the beginning of the season, but when they got going, boy did they. John Tortorella heads back to Tampa Bay with the Rangers having won four in a row.
Blues: In addition to Saturday's game against Chicago, they play the Avalanche on Friday night. That's where they take their four-game win streak.
Detroit Red Wings: All this team does is streak. No seriously, look at their schedule. Like the Blues, they have two games over the weekend, Friday in Buffalo then Sunday at Colorado.
Canadiens: Already mentioned, the Habs go into Los Angeles on Saturday having lost four straight.
Capitals: See above: Caps have lost four in a row headed into Saturday date with Senators.
Hurricanes: Currently at five losses in a row, the Penguins visit next. Ouch.
Edmonton Oilers: With the battle of Alberta looming, the Oilers enter on a three-game skid. They would probably like to have Taylor Hall back.
Photo: Getty Images
For more hockey news, rumors and analysis, follow @EyeOnHockey and @BrianStubitsNHL on Twitter.