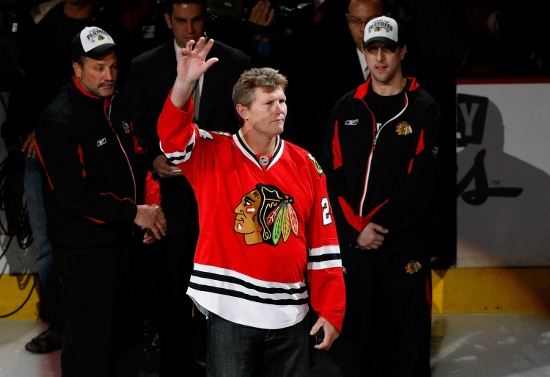 It was Bob Probert's heart, not his brain, that struck down the former NHL enforcer at age 45 last July.
Probert, however, knew the 16 seasons of pounding he absorbed as one of the league's foremost pugilists as a member of the Chicago
Blackhawks
and Detroit
Red Wings
had taken a toll. Before he died of a massive heart attack, Probert
asked family members to forward his brain to researchers
known best for studying concussions in football players.
Probert's suspicions proved correct, according Thursday's
The New York Times
.
After examining Probert's brain tissue, researchers at Boston University said this week that they found the same degenerative disease, chronic traumatic encephalopathy, whose presence in more than 20 deceased professional football players has prompted the National Football League to change some rules and policies in an effort to limit dangerous head impacts.
Researchers at Boston University's Center for the Study of Traumatic Encephalopathy previously found CTE in Reggie Fleming, a former NHL enforcer who died in 2009 at 73.
"How much is the hockey and how much is the fighting, we don't really know," said Dr. Robert Cantu, co-director of the Boston University center and a prominent neurosurgeon in the area of head trauma in sports. "We haven't definitely established that the skills of hockey as a sport lead to a certain percentage of participants developing CTE. But it can happen to hockey players, and while they're still relatively young."
Don Fehr, the executive director of the NHL Players' Association, told the newspaper the revelation that Probert had signs of CTE "raises concerns and it bears serious examination" of the sport's safety.
Hits to the head -- from blindside collisions more than fighting -- have been an issue the league has attempted to remedy over the last couple seasons. The league and the NHLPA agreed to add Rule 48 that made such hits illegal late last regular season and the rule was toughened in the offseason to include in-game penalties,
like the major penalty and game misconduct
given to New York
Islanders
enforcer
Trevor Gillies
on Wednesday night for his hit on Minnesota
Cal Clutterbuck
.
The league's most famous player , Pittsburgh's Sidney Crosby, has not played since Jan. 5 as he battles concussion-like symptoms. Pens coach Dan Bylsma told reporters Crosby's return could take another month or he may not return until the summer.
Like the NFL, there are no easy answers for a tough-guy sport like hockey. More penalties could help, but Gillies was coming off a nine-game suspension on Wednesday for the exact same kind of hit.
Softer pads, better helmets and more respect wouldn't hurt either.
Photo: Getty Images