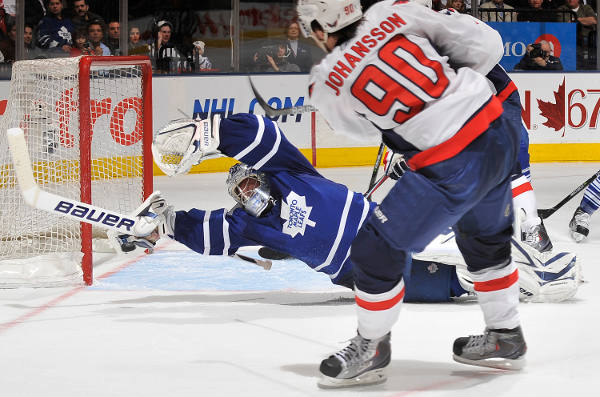 The Toronto
Maple Leafs
' playoff drought officially reached six seasons on Tuesday, although most of Ontario saw that coming with club's horrific start.
The skid, the longest in franchise history, predates the NHL lockout. Two teams (Carolina
Hurricanes
and Anaheim
Ducks
) have seized Stanley Cup titles for the first time and two other Original Six franchises (Detroit
Red Wings
and Chicago
Blackhawks
) earned championships as the club at the center of the hockey universe has called it a season at 82 games.
So, where was the outrage Tuesday night? Imagine if baseball's equivalent, the New York Yankees, or the NBA's Los Angeles Lakes, went that long without a playoff berth. Heck, the fanbases for those franchises would be in an uproar if their teams didn't secure a title or two.
The dependable
Damien Cox of the Toronto Star
for one wasn't about to let the Leafs off the hook, understandably setting a good heap of the Leafs' lack of success on GM Brian Burke and coach Ron Wilson:
They've had their honeymoon period, and now this hockey town needs to demand answers and achievement.

"I'm not going to conduct an autopsy here," said Wilson after Tuesday night's loss to the Caps.
No problem. We'll do it for you, coach.

There were clearly factors that injured the Leaf season, including the failure to identify the organization's best goaltender earlier, a serious injury to captain Dion Phaneuf, a good but not great season from (Phil) Kessel, the struggles of Mike Komisarek and, of course, that nightmarish power play.

But the overriding issue that made the first half of the season a disaster and the second half not good enough is that this hockey club still lacks a defining personality, an identity that explains what it wants to be night after night.
Burke built a solid nucleus in Vacouver, which included drafting the Sedin twins. After his contract was not renewed and a little bit of TV work, Burke needed only two seasons to turn the Ducks into Stanley Cup champs.
He's now about to complete his second full season in Toronto without nearly the success despite more resources at his disposal. Burke recently reaffirmed his backing to Wilson, who will return for his fourth season behind Toronto's bench.
Nobody can question the credentials of either Burke or Wilson, but time could be running out for each -- and it doesn't help that the team has hung out the "for sale" sign and could soon have new ownership that might not be as patient.
There are some positives, but who knows if they carry into next season. The Leafs are tied with the Los Angeles
Kings
with the fifth-most points (41) since the All-Star break. Rookie
James Reimer
(pictured above) was solid in net down the stretch, oftentimes keeping the Leafs in games to make their late-season run possible. Even in Tuesday's 3-2 shootout loss to the Washington
Capitals
, Reimer made 39 saves in regulation and overtime.
"We can hold our heads high," said Reimer
told the CBC Sports
. "We've gained a lot of confidence."
This is the latest, as CBC points out, the Leafs have gone (third-to-last game of the season) before getting eliminated since 2006. I guess that is what is considered progress these days in Toronto. The Leafs were actually eliminated a few minutes before their game ended via Buffalo's victory over Tampa Bay.
"Everybody's going to be really excited to get back here," Leafs forward Joffery Lupul told the network.
Maybe it's odd that the Leafs have lapsed into the "wait 'til next season" mentality, but it has been 44 years since their last championship. It's quite understandable.
TUESDAY'S RESULTS
Buffalo 4, Tampa Bay 2
Washington 3 , Toronto 2 (SO
)
Ottawa 5, Philadelphia 2
Pittsburgh 4, New Jerse
y 2
Montreal 2, Chicago 1 (OT)
St. Louis 3, Colorado 1
Nashville 6, Atlanta 3
Dallas 3, Columbus 0
Edmonton 2, Vancouver 0
-- A.J. Perez
Photo: Getty Images