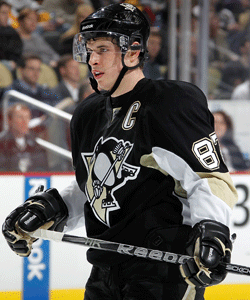 It's getting so close, you can smell it.
"It" is Sidney Crosby, the Penguins superstar who has been out for 10 months with post-concussion syndrome. But General Manager Ray Shero is hinting that the time is nigh.
In an interview on Sportsnet's 590 The Fan in Toronto, Shero talked about the progress of Crosby, who has been quiet since he was cleared for contact. The first order of business: Has anybody hit Crosby in practice so far?
"He's had contact in practice. He took a stick to the chin," Shero said. "He ran into Kris Letang in practice the other day and unfortunately 58 [Letang] took the worst of it. He's had tough battles down low in a lot of our practices.

"As long as he's progressing and is doing OK, that's the main thing."
Hosts Darren Millard and Doug MacLean also asked Shero if the team had been trying to expedite Crosby's recovery recently. Considering the team hasn't rushed him at any point of his recovery, I don't see why they would now, and Shero confirmed that.
"We're not that interested in moving it quicker. It's going to go at the pace it needs to go."
But maybe the juiciest part was saved for the end. Straight up: Will Crosby play Saturday in Toronto against the Maple Leafs?
"No," Shero responded. "I'd like to play him at home first probably. Does it matter though, really? He's going to want to play. The thing with Sidney is that he really wants to play. If I say 'Listen, we want to hold you out until the following Friday because we have a home game' he's going to look at me like 'huh?!'"
You can read through that a little and get the impression that Crosby is almost up to day-to-day status.
The Penguins are at Consol Energy Center on Thursday night to take on the Islanders, but after that they venture on a road trip that keeps them out of Pittsburgh until Nov. 11. I don't think it will be long before odd are released by Bodog on Sidney's return date.
For what it's worth, Josh Yohe of the Pittsburgh Tribune-Review put his own odds on Crosby's return earlier Thursday. "Nov 11 Dallas 2/1; Nov 3 San Jose 8/1; Nov 15 Colorado 10/1; After Nov 30 5/1; Oct 29 in Toronto 25/1."
If the GM is saying things are going well and a guy that covers the team on a daily basis thinks there is a 2-to-1 chance Crosby plays on Veteran's Day, then I can at least say we're getting close.
Now sorry to Jeremy Roenick and all like-minded individuals. Bash away ...
Photo: Getty Images
For more hockey news, rumors and analysis, follow @EyeOnHockey and @BrianStubitsNHL on Twitter.