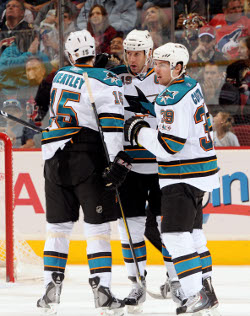 San Jose
Sharks
center
Joe Thornton
deflected the puck past Phoenix
Coyotes
goalie
Ilya Bryzgalov
for his 1,000th career point midway through the third period of Friday's game. The goal was part of a late rally by the Sharks that fell short as the Coyotes won, 4-3, to secure a playoff spot.
Thornton is the 78th player in NHL history to record at least 1,000 points and he joins Vincent Damphousse as the only players to reach the milestone while in a Sharks uniform.
"A thousand points is a thousand points," Sharks coach Todd McLellan told reporters after the game when asked if the loss dampened the accomplishment. "You'll take it any way you can get it. It's something he should be extremely proud of and our organization should be proud to have a player of that caliber playing as long as he has here in San Jose. We are all very proud of him."
The first 421 career NHL points came as a member of the Boston
Bruins
before he was traded during the 2005-06 season to San Jose. Thornton has more points of any player since the start of the 1997-98 season and currently ranks ninth in points among active players. He has 69 points (21 goals and 48 assists) this season.
The Sharks had to scramble a bit Friday after forward
Devin Setoguchi
was injured during warm-ups. McLellan said that Setoguchi "cramped up" and he was hopeful he'd be ready to go as the home-and-home series shifts to San Jose on Saturday. The Sharks were also again without forward
Ryane Clowe
, who is out with a lower-body injury.
But one thing that didn't change was Thornton's absence in the faceoff circle. For the fourth consecutive game he did not take a single draw. As is per usual this time of year, the Sharks have been mum on if an injury has caused Thornton to lay off the faceoffs.
-- A.J. Perez
Photo: Getty Images