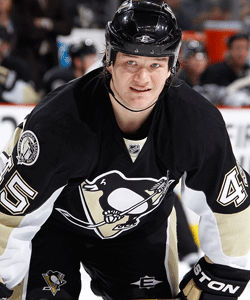 Nothing like a fight to get things riled up once again in the NHL.
Arron Asham's knockout of Jay Beagle in last night's Pittsburgh Penguins-Washington Capitals game has been the talk of the day, the soup de jour. The fight itself was noteworthy enough. After getting his right hand free, Asham threw two punches square to Beagle's face, dropping him to the ice a bloody mess.
Obviously what took it from there to a bigger story altogether were Asham's actions immediately after the fight. On his way to the penalty box, he motioned that it was over and then did a go-to-sleep sign. Very soon Asham realized the severity of the injury for Beagle and was seen tapping the glass in support. He was further apologetic after the game.
Capitals captain Alex Ovechkin, who was yelling at Asham from the penalty box while serving Beagle's two-minute minor, wasn't happy in the postgame.
"It's a fight. It's hockey game but again it was pretty tough. Beagle, like, he's just first-year NHL," Ovechkin said Thursday night. "Asham, I don't know if he knows that or not, but just put him on the ice," Ovechkin said. Beagle is "not a fighter, it's not his job to fight. I don't know, it looked kind of not respectful for players on different team. I don't know what people think, but I think it's not respectful."
Well that got the attention of Asham. The Penguins tough guy, who reached outto the Caps' Mike Knuble to apologize to Beagle, wasn't willing to take that from the Ovie without a retort.
"I don't know what Ovie's talking about, disrespectful," Asham told the Pittsburgh Tribune-Review. "A guy who throws his stick down and warms his hands over it. He is being a hypocrite himself. The rivalry is back. I'm sure the next game is going to have a lot of fireworks.

"I woke up this morning feeling pretty stupid. Guys make mistakes. Mine could have been a lot worse than some of the mistakes that go on. I held him up at the end so he didn't smash his face up.

"I didn't know he was unconscious. I obviously want to win the fight but I don't want to hurt anyone. The thing is, I didn't go up and ask him to fight. I told him to settle down. He challenged me. He wanted to fight me."
I wasn't aware that the Penguins-Capitals rivalry had gone anywhere to the point that it's back, as Asham says, but this did solidify Dec. 1's rematch in Washington as must-see TV. After sitting out as a scratch the first three games of the season, it's probably safe to say D.J. King will be in the lineup for the Caps that day.
Meanwhile, Capitals defenseman John Carlson, only 21, took to Twitter to share some of his frustrations. After simply tweeting "#JayBeagle83", he was chirped back by a Penguins fan. Carlson's response? "Go screw yourself u mutant." Well, there's no doubting Twitter gets fans closer to athletes than every before.
Rivalries make the world go round. And in hockey, this has become one of the best and most intense out there. Now we just have some logs for the fire.
Photo: Getty Images
For more hockey news, rumors and analysis, follow @EyeOnHockey and @BrianStubitsNHL on Twitter.