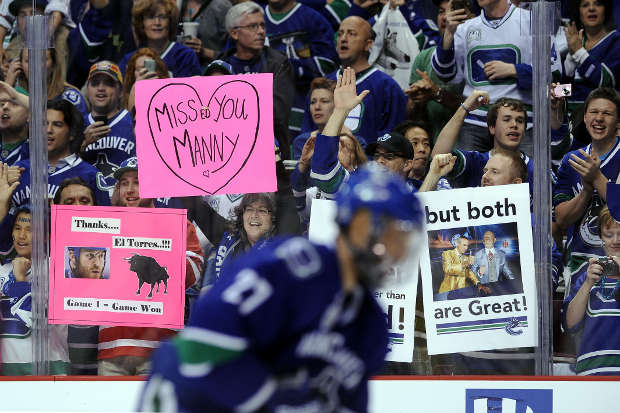 After two and half months away,
Manny Malhotra
admitted he was on "sensory overload" as the Vancouver
Canucks
center made his return from a gruesome eye injury.
"I guess I really didn't settle down till after my first shift," Malhotra said after his team won, 3-2, in overtime on Saturday to take a 2-0 lead over the Boston
Bruins
in the Stanley Cup Final. "It was obviously a great feeling, the ovation I got for my first shift. Once I got out there, felt a little bit better [and] started to skate."
Malhotra, who took a puck off the eye in a game against the Colorado
Avalanche
on March 16, underwent two operations to restore the vision in his left eye. The Canucks ruled him out for the season days later, but he began skating with the team last month and was eventually deemed healthy enough to return to game action.
"As far as just being able to be back in the lineup, call it what you want," Malhotra said. "For me it was just that desire to want to be back. It's always tough to watch your teammates doing what you want to do, what you love to do. But with the encouragement I had from the guys from Day 1 made me want to push myself to be a part of it again."
Malhotra centered the fourth line in Game 2 and played 7:26 – including 1:31 on the penalty kill. Malhotra, one of the game's best defensive forwards, didn't lose his touch on faceoffs as he won 86 percent of his attempts.
"It's no surprise to us that he wins faceoffs," Canucks forward
Daniel Sedin
said. "He's unbelievable at that. He's kept himself in shape. He's a hard-working guy. I think we expected him to play good tonight and he did."
-- A.J. Perez

Photo: Getty Images