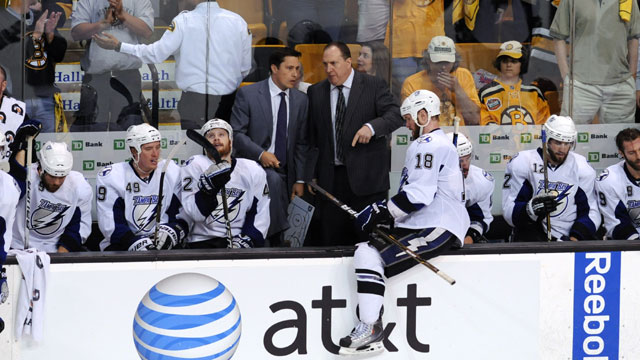 Hats off to the Tampa Bay Lightning.
You'd be hard pressed to find anybody before the season that saw this coming. It was clear they were getting better, and the vibe around the organization improved dramatically with the addition of Steve Yzerman to the front office, but Game 7 of the Eastern Conference finals? That's exceeding expectations.
But here's the funny part. You look at this team and you don't see a group of over-achievers. It was a rapid improvement, but you don't get the sense this was a fluke. No, the Lightning are that good.
The question now becomes, will they be able to stay this good?
This offseason, Stevie Y will have his work cut out for him. For starters, there is the issue of Steven Stamkos. The budding superstar is a restricted free agent this year and you better believe there will be teams sending offer sheets his way if the two sides can't work out a deal in the next few weeks -- you have to think a deal being reached in the next two weeks is the most likely outcome. Obviously if he goes the loss is tremendous, but if he stays, the impact will be felt elsewhere as he is due a significant pay raise.
Even with the salary cap going up next season, the Bolts won't be able to keep all of their big players on the roster. Between Vincent Lecavalier, Martin St. Louis, Ryan Malone, Mattias Ohlund and Pavel Kubina, that's $30 million, or roughly half of next season's salary cap, depending on the final cap number.
In addition to Stamkos, one of the team's playoff Stars, Teddy Purcell, will also be a restricted free agent while the biggest playoff surprise of them all, Sean Bergenheim, will be unrestricted. Same goes for Simon Gagne.
With their midseason acquisition of Dwayne Roloson, the Bolts helped solve what had been a bit of a riddle for them in net. In relief of him, Mike Smith was very solid. Both of them, too, are scheduled to hit the open market as unrestricted free agents. After dealing with Stamkos, that'll be the second priority, figuring out who will be minding the net.
This season, Yzerman showed a bit of a golden touch so early in his career leading the Lightning, so we'll learn further this offseason if he's as good as gold. The Lightning still have a solid foundation, but seeing if he can lock up the franchise cornerstone and getting the players to fit the mold will be something worth watching in the coming months. The good news is the team does start the offseason with a little bit of room under the current cap.
-- Brian Stubits