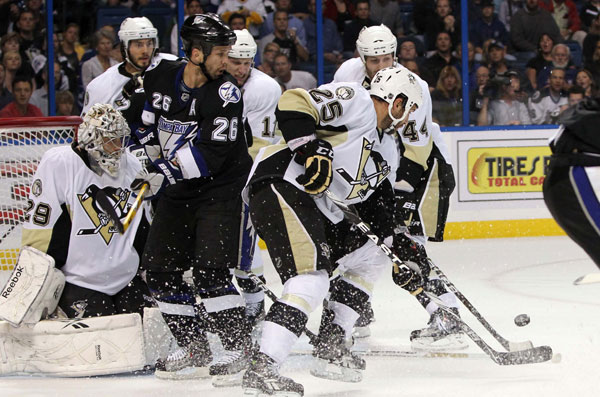 No. 5 Tampa Bay Lightning vs. No. 4 Pittsburgh Penguins
Time: 8 p.m.
TV: CBC/RDS (Versus is scheduled to join the game in progress)
Road to Game 7
The CONSOL Energy Center's debut season gets a Game 7. It won't feature the arena's two starring attractions -- Sidney Crosby and Evgeni Malkin -- and it's a game the Penguins could have avoided. The Pens held a 3-1 series lead before they were blown out, 8-2, in Game 5 then were done in by third-period goals from Steve Downie and former Penguin Ryan Malone en route to a 4-2 loss in Game 6. The series also feature two suspensions -- Pittsburgh's Chris Kunitz and Downie each received a game -- after Game 3 altercations. The Pens have the edge in experience having gone through three Game 7s over the previous three years.
In net
Dwayne Roloson (Tampa Bay) vs. Marc-Andre Fleury (Pittsburg): At 41, Roloson has been more than just adequate in his first postseason appearance since 2006. His .941 save percentage and 2.05 goals against average both best his younger, Cup-winning counterpart. (Fleury has a GAA of 2.77 and a .890 save percentage.)
Injury report
Despite the alleged eye gouge perpetrated by Pens defenseman Brooks Orpik of Tampa Bay's Steven Stamkos, the Lightning enter fairly healthy. Tampa Bay defenseman Randy Jones is out with an ankle sprain. The Pens are minus Crosby (concussion), Malkin (knee) and Nick Johnson (concussion).
Our picks
A.J. Perez: The Lightning's run has to end sometime. The Pens are minus their two biggest offensive weapons, but that's been the case a solid portion of the season. What they need is a competent performance out of Fleury. Is that asking too much? I think there's plenty left on the Pens roster to grind out a narrow victory.
Brian Stubits: The Lightning enter Game 7 rolling like thunder after impressive showings in Games 5 and 6, and with Crosby and Malkin out, have the greater firepower. This is a team I have not been high on and I'm a little surprised they made it to this juncture. The team's plus-minus this season was the lowest of playoff teams (ranked 20th at minus-13), which indicates they were somewhat lucky this season. So why go in the face of what looks to be a lucky streak right now? You have to wonder about the confidence level of the Penguins while the Lightning can't be feeling much in the way of pressure. Tampa Bay moves on.