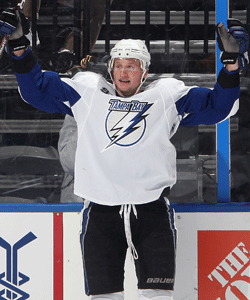 I'm not a betting man. Seriously, I've never made anything more than a friendly wager in my life. But I still enjoy looking at the odds, especially Vegas prop odds.
I think the most interesting of all the ones released by bodog.com this week are the ones pertaining to Sidney Crosby. The over/under on the amount of games he plays has been set at 60.5. That is starting to seem very attainable, too, as it seems Crosby is close to being cleared for contact. Interestingly enough, Crosby is also third down the list of Hart Trophy candidates at 13/2, trailing only Alex Ovechkin and Steven Stamkos.
Speaking of Stamkos and Ovechkin, t's also interesting to note that according to the oddsmakers, nobody is a lock to score 50 goals this season. Stamkos has the highest over/under followed by Ovechkin. Here are the top 5.
Steven Stamkos -- 47.5
Alexander Ovechkin -- 43.5
Corey Perry -- 41.5
Ilya Kovalchuk -- 38.5
Daniel Sedin -- 36.5
A couple other names of note are Zach Parise at 35.5, trendy Hart Trophy pick Evgeni Malkin at 31.5 and Jeff Carter at 34.5.
Here are some of the oddball prop bets for this season. If the preseason is any indication I'm taking the over, WAY OVER on 40 1/2 suspensions.
How many NHL head coaches will be fired during the 2011-2012 regular season?
Over/Under: 1 ½
Total Player suspensions during the 2011-12 NHL season?
Over/Under: 40 ½
Total fines during the 2011-12 NHL season?
Over/Under: 16 ½
Lastly, here are the over/under point totals for the top four or five scorers for every team in the league. There are a few enticing numbers on there, but again, interesting nobody has an over/under in the triple digits.
Photo: Getty Images
For more hockey news, rumors and analysis, follow @EyeOnHockey and @BrianStubitsNHL on Twitter.