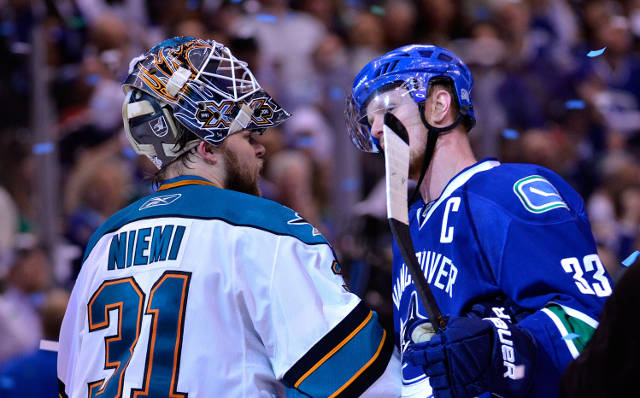 Different species, but the venom stung the same.
The San Jose
Sharks
were snake-bitten in Game 5 of the Western Conference finals as the Vancouver
Canucks
advanced to the Stanley Cup Final for the third time in team history with a 3-2 victory in the second overtime on Tuesday night.
Instead of the inability to win at home (see Calgary
Flames
in 2004) or failure to win anywhere (see a sweep by the Chicago
Blackhawks
last season), the Sharks saw their best chance to advance to the Stanley Cup Final for the first time in club history end when Canucks defenseman
Kevin Bieksa
-- in what seemed like a hidden-puck trick -- bounced a slap shot past San Jose goalie
Antti Niemi
in midway through the second overtime.
Of course, it wasn't that clean-cut as a 3-2 double OT loss, as described by
The Mercury News' Mark Prudy
:
It happened when the puck seemed to mysteriously disappeared for a few seconds after Vancouver defenseman Alexander Edler tried to flip it behind the net but instead sent it bouncing high off a metal dividing stanchion in the glass above the boards. It left the eyesight of everyone -- until Canucks' teammate Kevin Bieksa saw the rubber disc suddenly drop in front of him and whacked it with a crazy bounce into the net while Shark goalie Antti Niemi was looking in another direction.

"I thought the puck was out of play," Sharks center Joe Pavelski said. "I think the only guy who saw it was the guy who had it on his stick."
That was Bieksa, who bounced the puck home.
"It's one of those things that you absolutely have no control over," Sharks coach Todd McLellan said. "We can talk about it all we want. It went off a stanchion. When you watch the replay, the officials didn't know where it was, Nieme didn't know where it was, Vancouver, San Jose, nobody knew where it was. It came right to Bieksa. One more bounce he probably whiffs on it we're still playing. Nothing we can do about it"
That freakish bounce is probably why we won't see major chances in Silicon Valley. GM Doug Wilson and coach Todd McLellan have a good thing going in San Jose, even if they came up short.
Had they had a bounce go their way in a 54-save effort by Vancouver goalie
Roberto Luongo
, we could be heading to Game 6. Still, it's hardly to fault Niemi. There are a few others on the Sharks who may need to look inward.
Dany Heatley
, who made $8 million this season, was a ghost in this series. He had one point (an assist) through the five games. He was the lone superstar on the Sharks that was lacking, although you could fault forward
Patrick Marleau
-- at least a little -- for not knowing the Canucks had pulled Luongo in closing seconds --- who could have sealed a Sharks win in regulation.
"I think that's ridiculous," McLellan said when asked if the window was closing the Sharks to win their first Cup. "We have some very talented players that are under contract. We have a real strong core. We've learned a lot of lessons along the way. We've grown as a team. In my opinion, there's absolutely no reason why we can't be an elite team again next year, as we were the last three, four, five years. We expect to be there. That's the standard we live by."
Maybe no player set that standard on Tuesday like captain
Joe Thornton
. He missed the final 11 minutes of Game 4 with an undisclosed injury --- at least it was undisclosed until after the Sharks were eliminated. Thornton apparently suffered a separated shoulder on a check from Canucks bruiser
Raffi Torres
.
"Obviously, that's a very courageous game for him to play," McLellan said. "He did separate his shoulder last game. It was very painful. Our training staff and doctors did a tremendous job in preparing him to play."
The Sharks could have a roster very similar to what they put on the ice on Tuesday.
Devin Setoguchi
is a restricted free agent, San Jose's only star that could be plucked this offseason. Role players
Scott Nichol
,
Jamal Mayers
, Kyle Wellwod,
Ben Eager
,
Kent Huskins
,
Ian White
and
Niclas Wallin
will be unrestricted free agents come July 1. Expect Wilson to keep the core together for at least one more run.
"It's hard to find passengers today," McLelland said. "But we obviously didn't get the win, and that's what we came here before. The series itself, we lose a game possibly because of fatigue. We ran out of gas in Game 1. We lose our composure in Game 2. We get to Game 4 and it's a matter of about four minutes' worth of penalties. Tonight was bounces, in my opinion. We got better as the series went on. "
It just ended after five games. Now, the Sharks will have to play another 82 before they can prove they belong.
-- A.J. Perez

Photo: Getty Images<span class="Apple-tab-span" style="white-space: pre;">