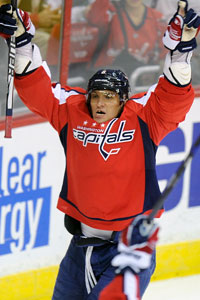 Ovechkin has 23 goals and 21 assists this season. (Getty Images)
Recently, ESPN.com's Pierre LeBrun asked an NHL scout to rank the four big Russian skaters playing in the NHL -- Pavel Datsyuk, Evgeni Malkin, Alex Ovechkin and Ilya Kovalchuk. Here's the answer he gave:
"Really close between Datsyuk and Malkin, they're 1a and 1b, then it's Kovalchuk, and Ovechkin a distant fourth."
Imagine that, Alex Ovechkin, two years ago seen by many as the best player in the world, "a distant fourth" just among Russian skaters? It seems hard to imagine if you think back to 2008 or 2009. But you can't argue with it at all.
Malkin might be the front-runner for the Hart Trophy right now. Datsyuk is seen by most to be the most offensively gifted player in the league, described as a wizard when he has the puck. And Kovalchuk? Well he has become a complete player this season as my colleague Adam Gretz pointed out earlier today.
Ovechkin? Well he's trended down in the last couple of seasons, way down. The stat heads will tell you that he was due for it, his numbers from a couple of seasons ago were completely unsustainable. Perhaps, but how to explain such a sharp and quick drop in production?
Former Cap Ollie the Goalie Kolzig, now a consultant for the Caps goaltenders, was asked about a number of topics regarding Washington on Wednesday. Among them, he had some thoughts to help explain Ovechkin's dip.
"I think a lot is frustration," Kolzig began. "Obviously he's not scoring at the clip he's accustomed to. Part of that is not having Nicky Backstrom in the lineup. Alex — and I think I'm seeing it a little more with Dale behind the bench – Alex was getting away from playing the hard, no-nonsense, honest type of hockey, exuberant hockey that he displayed the first three years that he was in the league.

"I think that's what endeared him to everybody. Then all of a sudden he was the same Alex, he was celebrating certain ways and what endeared him to everybody now made him look like a villain.

"So, I think part of it is he's feeling a little not as loved as he used to be, he brings that on himself sometimes," Kolzig continued, "But I think obviously missing Nicky, it hurts. Teams have kind of kind of got a handle on him, maybe how to close the gap on him and not allow him to score those fantastic one-on-one goals that he used to score.

"For Alex, it's a work ethic," Kolzig said. "He just has to get back to being the way he was in his younger days and maybe not get wrapped up too much in the rock star status that comes with being Alex Ovechkin."
Well, that's pretty interesting. The insinuation there is that Ovechkin isn't dedicated enough. Dare I paraphrase and say that he doesn't "care" enough like his Russian teammate in Washington Alex Semin has been accused of? To be sure it's pretty harsh criticism.
What would point to him being wrapped up in the rock star status? Not that I agree, I'm just spitballing, but he did recently make some news when he bought an extravagant $4.2 million home in Virginia. Perhaps it is his lavish car, a Mercedes SL65 AMG Black Series. Or maybe it's his romantic link to Russian tennis player Maria Kirilenko? I'm not sure.
What I can tell you is that production is still down. Here are some numbers that illustrate how much via Corey Masisak of NHL.com.
Only 2 players among top 36 #NHL goal scorers have fewer than Alex Ovechkin's 26 ES pts. PP was his big issue in '10-11. Its 5v5 in '11-12.

— Corey Masisak (@cmasisak22) February 15, 2012
Personally, I think it's more about the league figuring him out. Nicklas Backstrom being hurt doesn't help, but his numbers have been down the past season and a half, much of that with Backstrom playing, so I don't buy it as a big reason.
The lesson in all of this is that if you make as much money and are as recognizable a player as Ovechkin is, you better hope if your production dips that your team's doesn't, otherwise fingers will be pointed.
For more hockey news, rumors and analysis, follow @EyeOnHockey and @BrianStubitsNHL on Twitter.