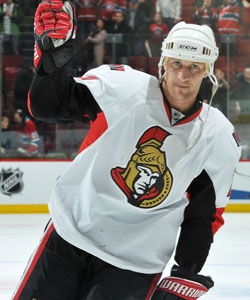 You have to give Alexei Kovalev this: he is sticking to his word.
In an era when 99 times out of 100 that a player says something controversial or in any way offensive he apologizes, it is nice to see when players won't retract, stand by the words they clearly meant to say. That's what we have Kovalev.
Last month he had some critical comments about the media, particularly the members in Ottawa. Remember Kovalev saying this?
"There are different journalists. My opinion of Ottawa journalists is that they don't watch hockey at all. When they fly with the team and go through the [metal detector] at an airport, their bags are filled with beer. You realize right away what these people do when they write about the NHL.

"I am annoyed when people write [nonsense]. Figuratively speaking, to earn half a hundred dollars they are ready to make up some garbage. But they show that they're doing their job."
Well Kovalev recently discussed those comments again with sports.ru in Russia. Thankfully Dmitry Chesnokov at the Puck Daddy blog was able to translate what Kovalev had to say.
"It means I was right. Otherwise they wouldn't have reacted the way they did. The Montreal media is more experienced [than Ottawa]; hockey has been there longer, people there understand hockey ... If they criticize, they do it for cause. And it Ottawa they criticize regardless of how you play."
Not entirely sure I follow the logic leap from being angry at insulting comments to showing the comments were true, but nonetheless he's holding his ground. Of course, it probably helps he's sniping from another continent, but still. Baby steps.
Photo: Getty Images
For more hockey news, rumors and analysis, follow @EyeOnHockey and @BrianStubitsNHL on Twitter.