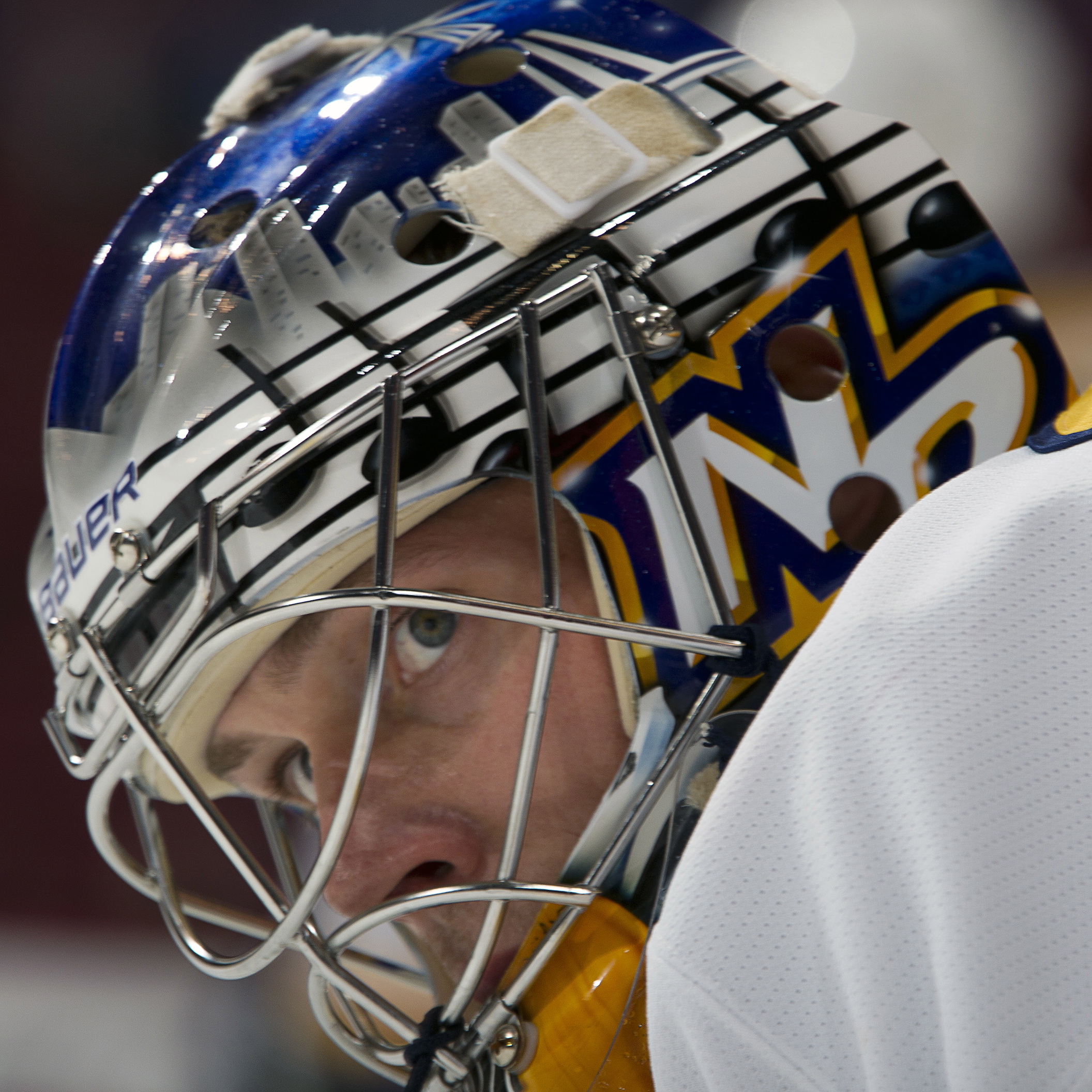 By: Adam Gretz
There are few positions in professional sports that get as much attention and face as much scrutiny as starting goaltenders in the NHL. There are also few positions that are as unpredictable, uncertain, maddening and completely random.
Tim Thomas
, the winner of two of the past three Vezina Trophies, is probably the best one in the league right now, and he didn't become a full-time starter until he was 32 years old after being a ninth-round draft pick and bounced around Europe and the minor leagues for nearly a decade.
Pekka Rinne
, the Nashville
Predators
goaltender who
just signed a contract
that gives him the highest average annual salary in the league at the position (seven years, $49 million), is another example as to just how unpredictable the position can be. During an interview back in 2006, former Predators assistant and current
Penguins
general manager Ray Shero told the story of how the team initially scouted Rinne prior to making him an eighth-round draft pick in 2004 --
they watched him during warmups in Finland because he rarely played in games for Karpat Oulu
, a team in the Finnish Elite League. Actually, he appeared in 10 games, winning eight, during the 2004-05 season, but the first night Shero joined a scout, Janne Kekalainen, to watch him was
during warmups.
Said Shero in the interview: "I watch him and he's taking shots and I turned to Janne after warmup and said, 'It's your call, buddy.' I can barely draft a goalie during the game let alone warmup. "
Needless to say their decision to draft him has paid off, Rinne has become their starting goaltender, a key member of their core, along with
Shea Weber
and
Ryan Suter
, and now, one of the highest-paid players in the NHL.
But was it the right move to give him such a large contract?
I'm not going to deny that Rinne is an excellent goaltender, and
based on the way the team around him has played so far this season
he's probably their first month MVP. It's also encouraging that the Predators were able to secure one of their home-grown players, and perhaps it's a sign that they will maybe, hopefully be able to keep one -- or both -- of their other soon-to-be top free agents (Weber and Suter). But I'm just not sold on giving out such huge contracts to goalies because, again, the position is just full of so much uncertainty, and one that can be heavily influenced by the team in front of the crease.
Over the past eight years the Predators have had no trouble finding goaltenders that are able to play at a high level, and in almost every season have managed to post a similar save percentage and finish well above (or close to) the league average no matter what their primary goaltending duo has looked like -- whether it was Rinne and
Anders Lindback
, Rinne and
Dan Ellis
, Ellis and
Chris Mason
, or Mason and
Tomas Vokoun
.
(League average in parenthesis)
2010-11: Pekka Rinne/Anders Lindback -- .926 (.913)
2009-10: Pekka Rinne/Dan Ellis -- .910 (.911)
2008-09: Pekka Rinne/Dan Ellis -- .910 (.908)
2007-08: Dan Ellis/Chris Mason -- .911 (.909)
2006-07: Tomas Vokoun/Chris Mason -- .922 (.905)
2005-06: Tomas Vokoun/Chris Mason -- .916 (.901)
2003-04: Tomas Vokoun/Chris Mason -- .912 (.911)
2002-03: Tomas Vokoun/Mike Dunham -- .911 (.909)
2001-02: Tomas Vokoun/Mike Dunham -- .903 (.908)
2000-01: Tomas Vokoun/Mike Dunham -- .917 (.903)
I'm not sure Rinne can consistently duplicate the .930 save percentage he recorded last season when he finished as a runner-up for the Vezina Trophy, and if he's back around the .915-920 area that is his career average, how much worse would they have been with a combination of Lindback and a free agent signing at a fraction of the price next season?
Like the situation in Phoenix with
Mike Smith
replacing
Ilya Bryzgalov
, there would have been a drop, but
probably not as large as most would expect
, or as large as the gap in salary would indicate, especially given the amount of success players like Mason and Ellis have been able to experience in Nashville (and how how much they've struggled away from Nashville). Keep in mind, Ellis, Mason and Rinne all experienced seasons with the Predators where they finished in the top-10 in the NHL in save percentage. They've consistently been able to find productive goaltenders without breaking the bank, why couldn't they continue to do it?
In the salary cap NHL every dollar counts and the wrong contract can have a large negative impact on a franchise, especially when it's a team that may or may not have an endless supply of money to keep other core players. I guess, in the end, it just goes back to my dislike of such large contracts for a position that is so unpredictable, even with seemingly established players, combined with the belief that players like Weber and Suter are simply more valuable to what they do for the long-term.
As E.J. Hradek pointed out on Twitter earlier in the day, it's a lot easier (and cheaper)
to find quality goaltenders than it is to find franchise defensemen
.
Photo: Getty Images
For more hockey news, rumors and analysis, follow @EyeOnHockey and @agretz on Twitter.