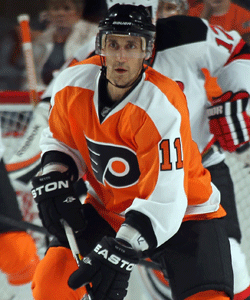 Blair Betts is back as a member of the Philadelphia Flyers after his waiver claim by the Montreal Canadiens was reversed.
Because of an injury to his shoulder that he sustained in the 2009-10 playoffs and continued to bother him throughout last season, the Habs are sending him back to Philly by the NHL. He had to sit the Canadiens' first game in Toronto as a result of the bum shoulder.
In doing so, the NHL cited a bylaw that states "a player acquired by waiver claim is not physically fit at the time the claim is made. The Member Club making the claim may refuse to take an assignment of such player's contract and the request for waivers shall be cancelled."
"While it is clear that both clubs have acted in good faith in this unique situation [waiver claim], I am not prepared to dispute the conclusion of the Montreal club doctors that Mr. Betts was physically unfit to play at the time of the claim," commissioner Gary Bettman said in a statement. "Therefore, it is my decision that, per league bylaws, the appropriate resolution to this matter is to restore the parties to the position they were in prior to the waiver claim on Oct. 5."
"After the waiver claim, Montreal exercised their right to a physical examination of Blair," Flyers General Manager Paul Holmgren said in a statement. "Apparently, they found something that concerned them and had asked the league to void the waiver claim. Blair is back on our roster as of today."
With Betts going back to Philly, it causes a little consternation for Holmgren and his contract limit and salary cap. Betts is making $700,000 while the Flyers only have about $65,000 in available room, according to Cap Geek. So Holmgren will have to do something, likely leading to a little shuffling on the roster to get back under. It shouldn't be an issue before the Flyers play another game, but it's some necessary house cleaning for Holmgren.
Also, it brings the Flyers to the maximum 50 contracts once again. While that isn't a problem quite yet, it could be once/if rookie Sean Couturier plays in his 11th game. That will make him contract No. 51, so something will have to give.
In the end it could be a nice break for Philly, who might like to have a tough defensive forward at the ready for a call-up if a seemingly thin PK unit needs some killers. That's assuming, of course, Betts is ready enough to go. Moreover, they would probably welcome him in the faceoff circle.
"I happen to think a lot of Blair as a penalty killer, good faceoff guy," Holmgren said after waiving Betts. "He's really an ideal fourth-line guy and the fact that some of those young guys were utilized killing penalties in the preseason, I think some of the guys that we acquired in the summer or through free agency or trade can fill that role too. We'll see.
"Blair's obviously been a big part of things over the last couple years. It was a difficult conversation with him today."
At the same time, it's a tough decision for the Canadiens. The addition of Betts was a very quiet, but solid addition for them and he figured to add to their usually always solid special teams.
Photo: Getty Images
For more hockey news, rumors and analysis, follow @EyeOnHockey and @BrianStubitsNHL on Twitter.