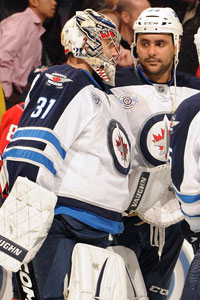 Winnipeg is only three points behind Florida and Washington in the Southeast. (Getty Images)
Weekend Schedules: Friday | Saturday | Sunday
WASHINGTON -- Here we are in mid-February and the Winnipeg Jets are still lingering right there in the playoff picture, just outside the East's top eight (even closer to the Southeast Division lead). That's how crucial Thursday night's Houdini act was in Washington, to take two points from a game that was seemingly lost.
The next question becomes how they can follow that up?
Winnipeg finishes off a travel-heavy stretch this Saturday in Pittsburgh against the Penguins. It will be their eight road game in their last nine overall, a crucial stretch in their season that many thought would bury their playoff hopes. I admit, myself included.
Instead, they were given a golden opportunity with a lucky bounce to pick up some serious steam for a playoff push.
"We have a big game in Pittsburgh," forward Bryan Little said on Thursday after the 3-2 win in D.C. "If we get a couple points there it would be a great road trip for us."
And it would bring them some strong momentum into a home-heavy stretch they are about to hit.
"We've been playing well at home all season, so we'd be really pumped with that," Little said.
That's why the game against the Pens is so big. It would more or less signify that the win in Washington was a springboard to launch them into their homestand. But any sort of momentum gained from it is for the most part lost with a flat showing in the 'Burgh.
"We've won two in a row now," said Evander Kane, who has played two games since returning from a concussion. "We have to be able to put together strings together and long winning streaks because that's how you're going to make the playoffs."
That's the goal, obviously, bring the playoffs back to the 'Peg. Maybe the White out too. So what better way to head into a stretch where nine of their next 10 are at the friendly confines of MTS Centre than a win in Pittsburgh?
They'll be taking on a Penguins team that will get a lift courtesy of a returning player. No, not Sidney Crosby, but instead Jordan Staal. Coach Dan Bylsma announced on Friday that Staal will be back in the lineup after dealing with a nagging knee issue.
So it's up to you Jets, make that win in Washington really count.
What the Devil has gotten into them?
The New Jersey Devils aren't just hanging around in the playoff race like the Jets, they are climbing into the conversation for home-ice advantage in the first round.
In a rarity, the Devils actually lost in a shootout on Thursday night to the St. Louis Blues. It brought an end to New Jersey's five-game winning streak but extended their points streak to eight games.
The catalyst in the run has been not only the stellar play of Ilya Kovalchuk, but Zach Parise's outburst. With his name being talked about as a possibility in trade discussions, Parise has only shown why teams would love to have him -- including the Devils, of course. In the last six games he has six goals and two assists. Not too shabby.
In case you haven't checked the standings in a while -- here's our nifty Playoff Race -- the Devils have jumped over the Penguins for the time being in the Atlantic Division race and are just three points behind the Flyers.
You have to like the odds of their points streak being extended to nine on Saturday. That's when they'll play the Florida Panthers at the Rock, the fourth and final meeting between coach Peter DeBoer and his former team from Florida. Seeing how the Devils have looked strong in winning two of the three from the Cats and would have taken the other if not for a complete meltdown in the third period, it doesn't seem like this is the time they will be stopped in their tracks.
Add in Florida being 1-6-4 in its last 11 road games and, well, you can see where this is going.
Chicago blues
It's high time the Blackhawks find themselves again. They are mired in a stretch that could be too difficult to overcome when it comes time for seeding in the Western Conference, especially if it continues.
In the midst of a nine-game road trip that still has five more stops to go, the Blackhawks are reeling. They've lost six in a row, picking up a point in only one of those losses. You wouldn't figure the next four games being in San Jose, at Phoenix, in Nashville then at the Rangers will make it much easier, particularly with the Sharks and Coyotes coming back-to-back this weekend.
It seems preposterous, but a couple more games and all of a sudden the Blackhawks are going to find themselves in a serious fight for a playoff spot period, let alone the seeding.
As big as the one Friday night in San Jose is, that game in Phoenix will be particularly big as the Coyotes have made a little surge in recent days and have climbed into the eighth spot in the West. It could pull Phoenix to within three points of Chicago if their skid continues.
Fifth time's the charm?
The New York Rangers and Philadelphia Flyers will have their fifth of six meetings this season on Saturday in Philly, a little matinee.
Despite it being their fifth game of the series, it's actually the first that will be played at Wells Fargo Center. So maybe that will be what the Flyers need to get off the Rangers schneid. They have been on the losing end of all four games so far.
There likely won't be any Ilya Bryzgalov in net again, though. And that's not because he's being benched, enjoying some nice tea in his thermos. Instead, he's enjoying some tea in his thermos because he's ill and, you know, people suggest you drink tea.
Obviously it hasn't mattered who has been in net for the Flyers this season, they haven't been able to figure out the Rangers yet. A game like Saturday's is huge for confidence, if not the standings.
Oh, and if you like fights, this might be your game. Last weekend's matchup broke out into an MMA show.
Mr. 1,000
It feels like we've had a lot of players hitting the 1,000 game milestone this season, doesn't it? On Thursday night Chris Neil of Ottawa celebrated entering four-digit territory. On Friday night it will be Tomas Holmstrom's turn.
The longtime Swedish Red Wings forward has obviously seen some good times in Detroit throughout his career. That tends to happen if you stay in a Wings uniform long enough. He'll be honored for that when the Ducks visit the Joe.
On the ice, this is actually quite the matchup. The Wings are still riding this ridiculous home winning streak, up to 18 games now. The Ducks, meanwhile, have come flying up from the basement and are now within eight points of a playoff spot in the West, still a long way to go but better than before. They are 11-2-2 in the last 15.
So don't be surprised if this is the team that's finally able to upset Detroit in Detroit and spoil the fun of Holmstrom's night.
We're going streaking!
Here is a look at the streaks -- both good and bad -- heading into the weekend.
Montreal Canadiens: Yes, that's right, the Habs are on a winning streak. They take a three-game run to their rivals in Toronto.
Vancouver Canucks: Remember when they were behind Minnesota in the Northwest? Me neither. They have a 15-point lead and carry a three-game win streak into Calgary on Saturday.
Coyotes: I said they've been on a run lately and that means they have a league-high four straight wins. Only Chicago awaits this weekend.
Blackhawks: See entry above: Six straight losses. Will they keep counting? Trips to San Jose and Phoenix on the docket.
Minnesota Wild: They have slipped out of the top eight in the West now having lost three consecutive games. A visit from Columbus is next on Saturday.
Ryan Miller: OK, I never put players on here, but Miller deserves a spot. The Sabres goalie has been much-maligned but he has turned a corner of late. He's on the run of his career. No, really. From Mike Harrington at the Buffalo News.
"Ryan Miller's 0.95 GAA and .969 save percentage over the last five games are the best in his career for any five-game stretch."
For more hockey news, rumors and analysis, follow @EyeOnHockey and @BrianStubitsNHL on Twitter.