Let's start with the shot heard 'round the world from Saturday night.
Early in the Bruins' 6-2 win over the Buffalo Sabres (their fifth straight win for those keeping track at home) Milan Lucic found himself chasing down a puck on a breakaway. Ryan Miller found himself in the tough position of playing the puck before Lucic or waiting for the breakaway attempt. Miller chose option A and the following was the result.
The play had Miller peeved. He gave the hockey world a contender for quote of the year after the game when he was asked about any injury he might have sustained on the play.
"I'm not really going to get into that," Miller said. "I just stuck around because I wanted to say what a piece of [feces] I think Lucic is. Fifty pounds on me, and he runs me like that? It's unbelievable. Everyone in this city sees him as a big, tough, solid player. I respected him for how hard he plays. That was gutless. Gutless. Piece of [feces]."
Of course seeing their goalie get trucked by Lucic was tough for the Sabres to see. But maybe the biggest problem of the day for them is why didn't it look like it bothered them? Lucic was given maybe a nudge or two. That's why he skated to the penalty box with a smirk on his face that would have made the Grinch proud.
His comment after the game must have been equally as cutting.
"You know, we wouldn't accept anything like that," Lucic said. "We would have [taken] care of business. But we're a different team than they are."
Ouch. That's pouring salt squarely onto the wound.
The worst part, though, was the Sabres knew they didn't respond in the right away. Paul Gaustad was embarrassed with how his team reacted immediately after the play. And he was on the ice.
"I can do more. I'm embarrassed that we didn't respond the way we should have," Gaustad said. "It falls on myself. I look at myself first, and I wasn't good enough.
"We didn't push back. There's no reason to be scared. We had to go after it, and we didn't."
The only player who seemed genuinely intent on getting back at Lucic was Miller himself. He took a swing with his stick as Lucic went by after the hit and then was restrained by a linesman and was left to shout -- presumably -- some obscenities at Lucic when he was escorted to the box.
I can't help but think back to a quote from last week from John Vogl of the Buffalo News. He said a player on the team told him the Sabres weren't playing as hard in front of Miller as they are for Jhonas Enroth. The general consensus on that was that it was because Miller is so good and the team has grown a bit complacent in front of him. This lack of response and that quote from Vogl could still not be linked, but it makes you wonder.
What I do know is that coach Lindy Ruff wasn't too pleased with his team's response either. He was reportedly hot in the team meeting on Sunday and left the building without speaking to the media, instead responding "[Bleep] the media" when informed reporters were waiting to talk to him.
I can't agree more with the crowd saying the Sabres showed no spine in response to the play. It was no coincidence that the game got away from the Sabres in a hurry after that and the Bruins went on to the 6-2 rout. You have to stand up for your goalie when he gets trucked like this. It's standard procedure to get in a guy's face when a goalie gets a snow shower, let alone a big hit like this.
Should Miller have made this play? Probably not. If you venture into the jungle, expect you might get bit. Either way, he certainly wasn't expecting a hit like that. Lucic saw a golden opportunity to hit a goalie and took advantage of it. It's like anytime a quarterback throws an interception, all the defenders are looking for a chance to lay the quarterback out with a big shot in the name of blocking.
But that doesn't mean that it was a legal play by Lucic. Here is what Rule 69.4 states specifically:
69.4 Contact Outside the Goal Crease - If an attacking player initiates any contact with a goalkeeper, other than incidental contact, while the goalkeeper is outside his goal crease, and a goal is scored, the goal will be disallowed.

A goalkeeper is not "fair game" just because he is outside the goal crease. The appropriate penalty should be assessed in every case where an attacking player makes unnecessary contact with the goalkeeper. However, incidental contact will be permitted when the goalkeeper is in the act of playing the puck outside his goal crease provided the attacking player has made a reasonable effort to avoid such unnecessary contact.

When a goalkeeper has played the puck outside of his crease and is then prevented from returning to his crease area due to the deliberate actions of an attacking player, such player may be penalized for goalkeeper interference. Similarly, the goalkeeper may be penalized, if by his actions outside of his crease he deliberately interferes with an attacking player who is attempting to play the puck or an opponent.
When the Bruins meet the Sabres again, we could be looking at a slugfest. Buffalo will look at that game as a chance for retribution. Hey, better late than never, I suppose.
Russian rut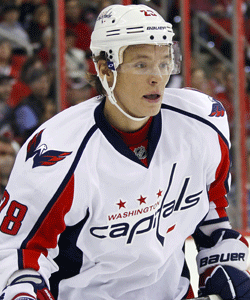 Alexander Semin is one of the more talented players in the NHL, speaking strictly on a matter of offensive skill. It was only two seasons ago that he had 40 goals and 44 assists in 73 games for the Capitals.
But he's also a player that's been singled out for not caring. That was an offseason storyline after former teammate Matt Bradley basically said as much. Funny how there weren't many Caps fans and media rushing to defend Semin for the slight. I think many actually agreed with Bradley.
But that was the offseason. This season isn't going much better for the 27-year-old Russian. He's off to a very slow start by his standards with three goals and five assists in 15 games. He's also a minus-1 and has a team-high 11 minor penalties this season. It seems they have all been some sort of stick penalty (mostly tripping) in the offensive zone.
With coach Bruce Boudreau on an accountability kick this year, it has led to some reduced time for Semin. So much so that he was benched in Washington's 2-1 win on Friday night against the Devils. He only logged 8:25 of ice time according to the official stats.
He did see a return to some normal ice time in Saturday's 3-2 loss to New Jersey as Boudreau doesn't seem to want to bury his star's confidence.
"I thought he tried really hard. You're not going to keep benching him and benching him and benching him," Boudreau said after Saturday's game. "He got a penalty early -- he went for the puck. That wasn't a lazy penalty.
"You guys are getting the wrong impression: The penalties are part of why he didn't play [Friday], but it wasn't the whole reason. He just wasn't playing very well, and we wanted to win the game. So we went with what we thought were the nine best players at the time. Everybody assumes it's because he took two penalties. He was still playing after he took the two penalties."
Semin declined to talk to reporters after the game on Saturday, both the English-speaking media and the Russian-speaking crowd.
This is getting to be an interesting situation in Washington. Semin is obviously gifted, that is not in dispute. He is a free agent after this season. If things don't improve not only on the ice but off of it, it will be interesting to see how interested the Caps will be in bringing him back, particularly with the money he will likely command. He is making $6.7 million this season.
Rangers rolling
It was such a pedestrian start for the Rangers this season. They were 3-3-3, were still having troubles scoring and the addition of Brad Richards didn't seem to make a difference.
Then coach John Tortorella got this crazy idea to switch up the lines and split the tandem of Richards and Marian Gaborik that had New York fans dreaming big before the season began. Wouldn't you know it's worked. The Rangers are on fire these days, dumping the Hurricanes 5-2 on Friday night for their sixth straight win.
I'm starting to think the Rangers like their plush new (or renovated) digs at Madison Square Garden. They are now 5-1-1 at home this season. That's their best start since 1992-93..
Oh, and the Rangers are 4-0-0 with Sean Avery back in the lineup, outscoring their opponents 16-6 in those games. He scored his first goal of the season Friday. Just sayin'.
It's all in the Hitch
The Ken Hitchcock era is off to a nice and somewhat predictable start in St. Louis.
In the three games the Blues have played under their new coach, they have two shutouts, including Saturday's 3-0 blanking of the Tampa Bay Lightning. In those three games, they have earned five of the six possible points.
We all had an idea that the Blues would get better defensively and thus would have better goaltending under Hitchcock, but this quickly? I'd like to credit it more to the wakeup call of a coach being fired and a new one leading them than anything tangible at this point.
Either way, victorious goaltender Brian Elliott was pleased.
"That was the complete game we've been wanting," Elliott said. "Everybody was hustling. Everybody was working hard. No one took a shift off."
Veteran's Day surprise
We return to Boston for maybe the best moment of the weekend.
Before the game at TD Garden on Saturday night, the Bruins, honoring a family of an active soldier in Afghanistan, helped offer a special surprise. When the parents of the soldier came out to drop the ceremonial first puck, the Bruins announced there was a surprise and they were soon reunited with their son, on leave from Afghanistan.
It's hard not to get a little choked up watching that, it's a great moment brought to us by the Bruins.
I'm a sucker for these reunion videos. I got lost one day going through all the videos at the Welcome Home blog. It's chicken soup for the soul type of stuff, especially on Veteran's Day. I'd just like to say thank you once again to any vets out there reading.
Not Flame retardant
Nature isn't the only place where a flame will conquer snow any day of the week. It appears to be a law of hockey too.
The Colorado Avalanche just can't beat the Calgary Flames, no matter where the game is played. On Saturday the Avs failed for the eighth straight time trying to beat their division rivals, and that was with one spirited comeback.
Miikka Kiprusoff is as composed as any goalie in the league when he's under pressure. Just see the final minute of the 4-3 on Saturday as an example. The final minute was incredibly intense and Kiprusoff didn't look like he was trying to hang on to the tenuous lead; he had the poise of a goalie with an 8-1 edge.
Meanwhile the Avalanche, after that 5-1-0 start have now fallen back to 8-8-1 with their seventh loss in nine games.
Quote of the week
First of all, we all know it's Miller's quote referenced above. But consider this the Miller-less category.
It's hard to pick just one, but all my choices are coming from Minnesota Wild coach Mike Yeo. To say the he has been unimpressed with his team the last few outings would be pretty accurate. This quote came on the heels of the 5-2 loss to the Kings on Saturday.
"Like, we think we're there. We're not even close," Yeo said (courtesy of Michael Russo at the Minneapolis Star Tribune). "Like, we think we're good enough yet, that because we won five games in a row that we're there. It's not even close. We said this when we were winning these games. We're not there. We along the way forgot what we have to put in to winning hockey games."
It sounds to me like a coach who is trying to bring his team back down to Earth after a great stretch of games, that Yeo sensed his team needed a little humbling.
Photo: US Presswire
For more hockey news, rumors and analysis, follow @EyeOnHockey and @BrianStubitsNHL on Twitter.