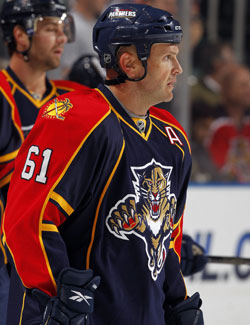 There are still a slew of veterans sitting on the free-agent market, perhaps waiting for the middle of the year for a team waiting for a lift. Cory Stillman won't be one of them.
The 37-year-old winger will instead elect to retire and move into the front office, specifically returning to the Panthers to serve in a player development role.
Mike Davies at the Peterborough Examiner (h/t to Puck Daddy) had the full story.
Stillman, 37, will officially announce his retirement at a press conference Thursday in Florida where the Panthers will introduce him as a member of their player development staff. He will work under director of player development Brian Skrudland monitoring and working with Panthers prospects from the junior ranks to the minor pros.

Stillman says he had offers to return to the NHL, including from Carolina, but he felt, for a variety of reasons, the timing was right to move onto the next stage of his life.

"I can walk away knowing I wasn't pushed out the door," Stillman said. "I could still play. When I got traded back to Carolina I was reunited with some guys and we had a good run at the end. In the end, I'm not old, but I'm getting a little older, I'll be 38 in December, and I had a career I'm very happy with. Now it's time to move on to be with my family."

Getting to make the decision on his own terms was important to Stillman who has battled injuries in recent years.
Stillman spent two and a half seasons with the Panthers before being traded to Carolina, where he once won the Stanley Cup with the Hurricanes, last season. He also was with the Lightning for their Cup victory in 2003-04, putting him in rarified air by winning back-to-back Cups with different teams. Let's call it the anti-Hossa.
Watching Stillman in the final few years of his career, specifically thinking of his time in Florida, this always seemed like a natural. Stillman had a professional vibe that he gave off, somebody who would work his way into an off-ice position somewhere. The Panthers saw it, asking Stillman to let them know when he was ready to retire because they were interested in bringing him back to the organization in another position than winger.
Photo: Getty Images
For more hockey news, rumors and analysis, follow @EyeOnHockey and @BrianStubitsNHL on Twitter.