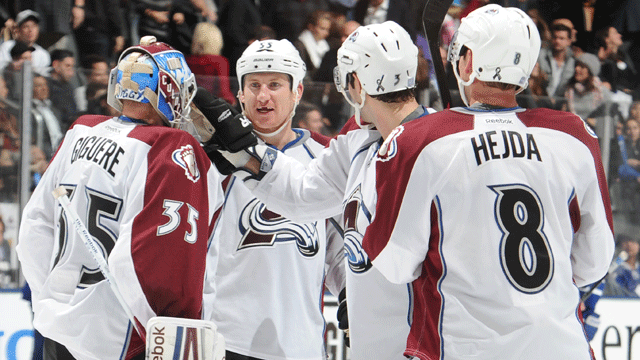 The Colorado Avalanche have shown a little pattern in recet years, so maybe we should have seen this start coming.
Three seasons ago they came off a conference semifinal loss by finishing with 69 points, bad enough to get the No. 3 overall pick in the draft, which they used to select Matt Duchene (good call). The following season they were in the playoffs behind Craig Anderson in goal. That was followed by another miserable season to give the Avs the No. 2 pick, which is where they grabbed Gabriel Landeskog.
It is still incredibly early, but if there were a surprise from the first two weeks of the season, it is without a doubt the Avalanche. Colorado lost its home opener before embarking on a five-game road trip to the East, including the Eastern Canada swing, and lo and behold, the Avs took all 10 available points. It was the first time in franchise history they won five consecutive road games. Not bad for a team with only three players over the age of 30 -- Jean Sebastien-Giguere, Milan Hejduk and Jan Hejda.
"Now what we have to do is take this kind of game we played on the road -- keeping it simple, doing little things -- and translating it to our home ice," Giguere said Monday night after beating his former Maple Leafs team. "This was obviously a great trip for us. It should give us confidence going forward."
Obviously winning at this rate won't last. That goes without saying. Considering their youth and inexperience, they are more susceptible than most to higher highs and lower lows. But the prospects of not finishing near or at the bottom of the Western Conference like many foresaw? Those seem pretty good right now.
A good chunk of the team's success has come from the goaltending duo of Giguere and Semyon Varlamov. Desperate to get a goaltender to take the reins this offseason, the Avs signed the veteran Giguere, but it was their move for Varlamov that took the attention.
Colorado was the heavy favorite to court and then sign free agent Tomas Vokoun. It seemed to be a perfect match. But a funny thing happened; the Avs didn't seem to want to go down that road. Instead, they spoke with the Capitals -- Vokoun's eventual landing spot, oddly enough -- and worked out a trade to acquire Varlamov, who said he was done playing in Washington. The price of a first-round pick in return seemed like a quality deal for the Capitals. After all, Colorado was the second worst team in the league a season ago. Talk to people around Washington and they are all aware of how talented Varlamov is. That was never the issue. If he can stay healthy -- now we have our issue -- it could be a coup for the Avalanche
However they are more than the goaltending, obviously. What really jumped out of the screen watching them play the Leafs on Monday -- and again, this was the fifth of five games on the road in another time zone, so the excuses to be sluggish where there -- was their speed and energy. I guess you can call that youthful exuberance. Whatever words you use to describe it, I call it impressive.
A lot of people might have been sleeping on the Avs before this season began, but Joe Sacco's crew has opened some eyes in a hurry.
Surprises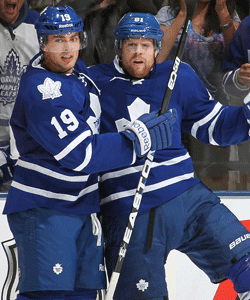 Toronto Maple Leafs: Despite losing to the Avalanche in overtime on Monday -- their first missed point of the season -- Toronto is out of the gate strong. Now this isn't something entirely new this time of year. Remember the Maple Leafs started 4-0-0 last season, then they won only one of the next 12 games.
One difference this time around, however, is James Reimer -- or his Twitter world nickname Optimus Reim, if you prefer. The young goalie is giving fans hope that they have finally solved the riddle in the cage. That and the so-far spectacular play of Phil Kessel and Dion Phaneuf gives you reason to believe the Maple Leafs just could end their six-year playoff drought this season.
Tampa Bay Lightning: They are surprising, but not in a good way. The Eastern Conference runnerups from a season ago have looked, well, awful. They have picked up only four points from their first six games and given up four goals or more four different times already. Dwayne Roloson looks his age, which is now 42.
"Obviously, we're not happy," Steven Stamkos said Monday. "I wouldn't say we're in a panic mode, but we're worried. This isn't the start we wanted. We're taking way too many penalties."
They better figure it out soon because with some improved teams in the East this year, they don't want to fall too far behind.
Dallas Stars: So Brad Richards is winless with his new team while his old team, the Stars, are 4-1? That qualifies as a surprise to many.
Everybody wondered how Dallas would replace the loss of Richards. Signing Michael Ryder in the offseason didn't seem to be a void-filler. Maybe all they needed was another year for Jamie Benn, Mike Ribeiro, Brendan Morrow, Steve Ott and Loui Eriksson together. Oh, and a healthy Kari Lehtonen. Dallas is 4-0 when Lehtonen starts this season.
Then there is Sheldon Souray, who Edmonton couldn't get out of town fast enough. Dallas took a shot on the bought-out Oilers defenseman and so far it's looking like a good gamble. He has a goal and three assists as well as a plus-4 rating while averaging more than 20 minutes on ice per game.
Florida Panthers power play: Is this real life or is this just fantasy?
The Panthers had 35 power-play goals in 82 games last season. Let that sink in for a minute. As you would probably guess, that was the lowest in the NHL. Maybe it's the addition of Kevin Dineen and assistant Craig Ramsey, maybe it's the influx of new forwards, or, perhaps most likely, it's the arrival of Brian Campbell to run the show. Whatever the result, the Panthers have scored on eight of their 25 power-play attempts this season, including five in one game against the Lightning on Monday.
Heck, they even have a short-handed goal already, making them an even squad on the penalty kill.
No suspensions for hits: With how busy Brendan Shanahan was during the preseason, I was getting ready to request Shanny TV 24/7. It was like Hannukah, waking up every day for eight straight days to see the newest gift, or in this case video. But since the first puck was dropped in Toronto, the only suspension handed down was for the Wild's Marc-Pierre Bouchard and his high stick on the Blue Jackets' Matt Calvert.
But a funny thing happened when the season began, the suspensions stopped coming. That's because the head hits have stopped coming, which is exactly what everybody hoped to see in the first place, even the anti-Shanny crowd. I view it like Republicans and Democrats; everybody wants to get to the same prosperous place, they just don't agree on how to get there. This is the same. I have yet to hear one person say they want head shots to remain in hockey, just that they feel like Shanahan was going too far, or as Don Cherry and Mike Milbury put it, setting the bar too high.
The preseason over/under on the number of suspensions laid down by Shanahan was 40.5. That under is starting to look awfully tasty now.
But this could change later Tuesday after Kris Letang of the Penguins has his meeting with Shanahan.
Not surprising but still noteworthy
The Washington Capitals and Detroit Red Wings both remain perfect. But we wouldn't expect anything else from those two franchises these days. To the other hot starters like the Flyers and Ducks, consider it a compliment that your team isn't on here. They have rosters people thought were capable of doing just this.
Photos: Getty Images
For more hockey news, rumors and analysis, follow @EyeOnHockey and @BrianStubitsNHL on Twitter.