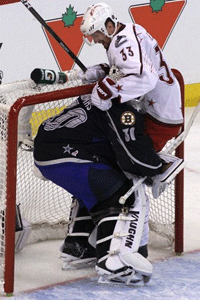 Henrik and Thomas meet again. (Getty Images)
The All-Star Game is about fun and it ends up being a lot about offense. The scoring is always through the roof. That's what happens when defensemen get stuck in 1-on-3s, players don't hit and the intensity level is lower than a mites game at intermission.
It doesn't always make for compelling television, but it does result in some pretty interesting statistics for the players. This saddens the skaters but the goalies couldn't be happier.
So here you are, the All-Star Game superlatives from Team Chara's 12-9 over Team Alfredsson in Ottawa.
Snapshot of the game: Seen to the right, Henrik Sedin and Tim Thomas coming together after Daniel scored on the rush. So Bruins and Canucks can co-exist, who knew?
Most goals: That would go to MVP Marian Gaborik, the only player to record a hat trick on the day. Sadly, nobody in Ottawa threw a hat on the ice, but Gabby did have a pretty memorable moment by beating his Rangers teammate Henrik Lundqvist and celebrating like Artem Anisimov.
Most points: Also Gaborik, who was the only player to reach four points. He assisted on Zdeno Chara's game-winning goal.
Most unselfish (assists leader): Pavel Datsyuk earns the "award" with his three assists in the game, the benefits of playing with Gaborik (or the other way around). "I wanted to score, too," Datysuk told Dan Rosen of NHL.com. "I never scored in my career in the All-Star Game. The dream is still there."
Ironman (most minutes): Shea Weber had more ice time than any player in the game, clocking 22:12 for Team Alfredsson. Still, he didn't record a point on the night. Something about nobody taking slap shots ...
Plus/Minus ace: Chara and Brian Campbell were tied for the best mark, playing together for much of Team Chara's win. Each was an impressive plus-seven.
Plus/Minus goat: Jason Spezza, Milan Michalek and Keith Yandle all were a minus-5 on the night, though each of the Sens players did score a goal in the losing effort.
Forgettable forward: Despite playing for the team that scored 12 goals and won, Jamie Benn was the only forward in the game on either side that didn't record a point.
Hitman: Yes, there was actually a hit in the game. A single hit. Scott Hartnell (of course) come on down! He had the audacity to get credit for a hit in an All-Star Game.
Best goalie: The award goes to Thomas, who pulled off a pretty incredible feat by winning the All-Star Game for the fourth straight time. He stopped 18 of 21 shots for an .857 save percentage.
Worst goalie: It was like old times in Ottawa for Brian Elliott, unfortunately. He surrendered six goals on 19 shots in the third period for a save percentage of .684. Oy.
Prettiest goal: It's a tough call after Daniel Alfredsson's first of the game, but I'm going to go with Marian Hossa's third-period goal when there was a player who was actually trying to play defense in front of him. It gets some extra credit for the saucer pass from Datsyuk to spring the breakaway.
More from Eye on Hockey
Alfredsson shines through in loss
Gaborik pulls an Anisimov after goal
Recap: Team Chara 12, Team Alfredsson 9
Full 2012 All-Star Game coverage

Photo courtesy of Sean Gentille twitpic

For more hockey news, rumors and analysis, follow @EyeOnHockey and @BrianStubitsNHL on Twitter.