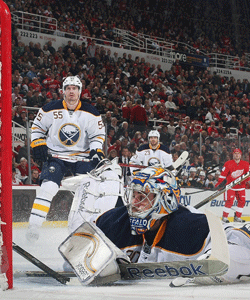 My how fast this season has sailed south for the Buffalo Sabres.
They can't win on the road (their 5-0 pounding from Detroit on Monday night was their ninth consecutive loss away from Buffalo), are average at home, are struggling to do much offensively and their owner has said they don't plan on doing much, instead they have been snake-bitten by injuries.
Ryan Miller has been as much a culprit to their lack of success as anybody. And now it's starting to bubble over.
The Sabres goaltender was beat for five goals in less than two periods on Monday night, eventually being yanked in favor of backup Jhonas Enroth. It came in his home of Detroit against his brother Drew Miller and the Red Wings.
"It's embarrassing," Miller said after the loss. "I got family and friends here. Everybody came to watch Drew and I play. At least they got to watch Drew perform."
(Side note: Here's a good read from The Goalie Guild on Miller's struggles)
But Miller's most intriguing comments came regarding the trade speculation and the Sabres. Everybody outside of the organization seems to be at a consensus that the Sabres need to do something, anything to shake up this roster. It's obviously not working well right now.
From within the organization, the vibe is a bit different, as Miller pointed out on Monday (from the Buffalo News).
"If you guys really think there's going to be any kind of trade made anywhere that's going to affect this team anymore than we can affect it in this locker room, you guys are just ... I don't know," said an emotional Miller, his jaw clenched and his lip quivering. "I don't know what to think because there's no such trade.

"There's not ever going to be a trade in the history of the NHL that's going to affect anything like that. There's no chance anybody comes into this team and just shakes it up or we can even move multiple players and get any kind of return.

"If you want to just destroy a team and go out and be reckless and do something, yeah. Then there's going to be new guys in here. But other than that, this locker room is going to be pretty much the same, if not completely the same and we gotta find it from in here [points to chest]. You can't sit and wait for somebody else to [bleeping] do it."
Normally I'd be on Miller's side of the argument here. It's up to the players to perform, it's why it bothers me how much credit/blame coaches receive for their team's performance. It's the players who play and who should feel the heat and burden to do better.
However this mix just doesn't seem to be working in Buffalo, and it's been a pretty solid core for some time. They haven't won a playoff series in four seasons. With a couple of injuries, the weaknesses are showing -- that would be a lack of forward strength, defensemen turning the puck over and, of course, goaltending.
There is at least one person from outside of the organization who thinks things aren't that bad in Buffalo right now. Patrick Kane, whose grew up in Buffalo as a big Sabres fan but will play them Wednesday night as a member of the Blackhawks, told Kevin Harrington of the Buffalo News that Miller gets too much heat.
"I still think the fans get on Miller a little bit too much back in Buffalo. He's definitely the guy there," Kane said. "He's not having the kind of season he wanted to and maybe things are getting caught up in everything back there.

"I think they can be a good team. They've got everything in place to do well. You want them to do well, especially being from there. Not better than you're doing but at the same time, growing up there I know a lot of people who root for the Sabres. It's a city that deserves the team to do well."
More to the point, compare the Sabres to last season and things don't seem so bad. At this time a year ago, the Sabres had almost the exact same record (19-21-5 this season vs. 20-21-5) with the same number of goals against and only nine fewer goals for. They rebounded and made the playoffs. So it isn't that the season is gone, although it it slipping away.
But the feeling is just different. Perhaps it's because of the raised expectations or what, however this doesn't have a stay-the-course feel to it being the answer.
I'd be surprised if the Sabres didn't make some roster shifts at or before the trade deadline. It will still be mostly up to the guys currently in the locker room as Miller points out, however that doesn't mean the franchise doesn't need to do what it can to expedite the process (or in this case help it out for the long-run).
Maybe just as interesting to watch is wondering if this will finally be the season where Lindy Ruff loses his job. He is the NHL's longest-tenured head coach, going on 14 seasons behind the bench.
Photo: Getty Images
For more hockey news, rumors and analysis, follow @EyeOnHockey and @BrianStubitsNHL on Twitter.