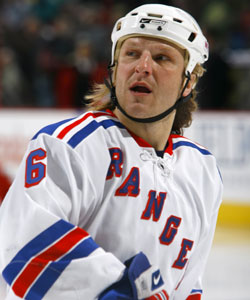 Here's a blast from the not-so-distant past. Darius Kasparaitis, former Islanders, Rangers, Avalanche and Penguins defenseman, is continuing his transition into coaching in Sweden.
The native of Lithuania last played in the NHL with the Rangers back in the 2006-07 season before he was waived and eventually loaned to SKA Saint Petersburg of the KHL. He had a very short stint working as an assistant coach for SKA, but his contract expired after six months.
So his new role is one that will put him in a position to really teach. Here's the story from the Swedish website hockey.expressen.se.
Considering I don't speak a lick of Swedish (I don't think the word Abba counts), I turned to a friend who happens to hail from Sweden. Here was his summary.
Kasparaitis joined AIK, a hockey team in Sweden's top division based in Stockholm, as a defenseman coach for the club's junior teams (junior meaning high school-college level). In this capacity, he will arrange training sessions once or twice a week, instructing on techniques particular to the defense position. Anders Gozzi, the AIK GM, explains that the hiring follows on the success he perceives that the team has had with similar special training sessions for goalies. If all goes well, Kasparaitis may move on to coaching the senior level players as well.
So there you have it. It's a true proving ground for Kasparaitis.
No word on if he'll be teaching them his way of checking.
Photo: Getty Images
For more hockey news, rumors and analysis, follow @EyeOnHockey and @BrianStubitsNHL on Twitter.