Go back a few weeks when Randy Cunneyworth's "hiring" in Montreal was all the rage. Literally, rage. It led to organized protests against the Canadiens organization, not just Cunneyworth (although that was the impetus).
Those who didn't support Cunneyworth's hiring because he doesn't speak French were upset not only with the Cunneyworth promotion, but what they called the entire Anglicization of the Montreal Canadiens, Quebec's only team since the Nordiques became the Avalanche.
The list of complaints went beyond the coach not speaking French, however. Here is what the Canadian Press reported about the protests.
Protesters also complained the music played at the Bell Centre is in English, that announcements are in both languages and that the team has few francophone players.
I laughed when I first saw that. Would the people of Quebec rather have a team of Francophones that stink than a team of Anglophones that wins (of course they have neither right now)?
So that got me to thinking: What would an all French-speaking, Quebec-born team look like? I wanted to take a look and see how good of a team I could put together, keeping salary cap restraints in mind. (Hey folks, it's the All-Star break, just having some fun here.) Consider this my own All-Star fantasy draft.
Let's just get right to it, shall we?
Head coach
Alain Vigneault is the guy. The Quebec City native has actually tried coaching the Canadiens before, making the playoffs only once from 1997-2001. He was fired midseason in the 2000-01 campaign. But he's found success since moving on to Vancouver, winning the Jack Adams once and coming in as a finalist in 2011 (he was also a finalist in 2000 with the Habs). A return trip to Montreal will hopefully go better this time.
Goaltenders
Marc-Andre Fleury, Jean-Sebastien Giguere get the nod here. Now this is a position where I have a lot of choices. Fleury I think is a pretty clear starter based partly on his age, but for the second spot there are a lot of veterans: Giguere, Martin Brodeur, Jose Theodore, Martin Biron, Mathieu Garon and Jonathan Bernier. They can stop pucks in Quebec, that's pretty clear.
In terms of salary, Fleury takes up $5 million, Giguere only $1.25. So $6.25 million in goal is a decent price to pay, but not bad.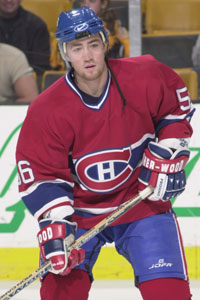 Robidas has spent time in Montreal already. (Getty Images)
Defensemen
I'm going with (in no particular pairing order) Kris Letang, Marc-Andre Bergeron, Francois Beauchemin, Marc-Edouard Vlasic, Stephane Robidas and Marc-Andre Gragnani. Letang leads the scoring punch while Bergeron, Beauchemin and to an extent Vlasic adding some more points. Defensively, Vlasic and Beauchemin highlight a pretty good two-way corps. But if anybody goes down, it gets thin after that.
As a whole, the defensemen don't cost that much. Beauchemin ($3.8 million), Letang ($3.5 million), Robidas ($3.3 million), Vlasic ($3.1 million), Bergeron ($1 million) and Gragnani (550,000) come in at a total of $15.25 million.
Center
Now this is a group of guys I like: Patrice Bergeron, Danny Briere, David Desharnais and Maxime Talbot. You'll notice one pretty big omission here and that's Vincent Lecavalier, but that $10 million per year is too big of a burden, I don't know how the Lightning do it. But I still have two guys who can score, arguably the best defensive center in the game, a young and promising player in Desharnais and a solid worker in Talbot.
Naturally this is costing me some cash here. Briere ($6.5 million) is costly, then add Bergeron ($5 million) before getting a little reprieve with Talbot ($1.75 million) and Desharnais ($850,000). In total, they take up $14.1 million.
Right wing
OK, I take it back about center. This is where my team is really loaded. Check out this lineup of Martin St. Louis, Jason Pominville, P.A. Parenteau and Alex Burrows. That's some serious scoring ability on the wing. I didn't have room for Maxim Lapierre or Pascal Dupuis at this position, but more on them later.
As you'd expect, this is the most expensive per-player corps on the team. St. Louis commands a cool $5.625 million, Pominville takes $5.3 million, Burrows costs $2 million and Parenteau a very reasonable $1.25 million. Total bill: $14.175 million.
Left wing
Here we have an Achilles' heel. The lineup we could toss out is Pierre-Marc Bouchard, Alex Tanguay, David Perron and Guillaume Latendresse, but that's an awfully risky group of players. Each of Bouchard, Perron and Latendresse have dealt with concussions while Tanguay has been suffering with a neck strain. So to add a little stability, I'm going to convert Dupuis to the left side and leave out Bouchard -- more expensive than Latendresse.
The good news is this group doesn't cost a whole lot. Tanguay ($3.5 million), Latendresse ($2.5 million), Perron ($2.15 million) and Dupuis ($1.5 million) run up a bill of $9.65 million.
Scratches
Since he didn't make the list at right wing, Lapierre is going to serve as our daily scratch. But really he's likely going to be playing a lot at left wing with the injury potential. What he also gives is a physical presence. He's at least not averse to dropping the gloves, having five fights this season for Vancouver. Maybe we could try and talk Georges Laraque to coming back and serving the enforcer role, but undoubtedly sitting in press row most nights.
Lapierre comes in at an even $1 million.
Overall
The total salary for this team checks in at $60.425 million, giving our GM (we'll just keep Pierre Gauthier) a little room to maneuver or sign maybe another defenseman that would likely sit in the press box most nights.
Moreover, the top prospect in the system would have to be Jonathan Huberdeau, the player who went third overall to Florida in the last NHL Draft. He's likely to be in the NHL next season and right now projects to be a center but he can also play on the wing, so he could help out with the weaker left side.
In the end, it's actually a much better team than I thought it could be. It might be a little lacking in the physical department, but the team has a lot of ingredients: It has some big-time scorers (seriously, a top two lines of Tanguay-Bergeron-St. Louis and Perron-Briere-Pominville isn't bad at all), it has some agitators (I'm looking at you, Burrows and Lapierre), is good defensively and I think it's solid in net.
And don't forget, everybody speaks French!
More from Eye on Hockey
Yes there were protesters in Montreal
Quebec group unhappy with Cunneyworth hire
Owner: Bilingual coach is important
For more hockey news, rumors and analysis, follow @EyeOnHockey and @BrianStubitsNHL on Twitter.