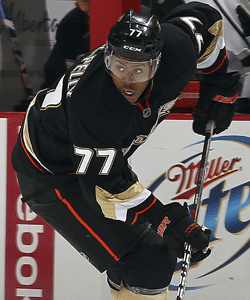 It's getting harder and harder for general managers to loan their prized young prospects to their junior national teams. What happened to Canada's Devante Smith-Pelly serves as the latest deterrent.
In Canada's 8-1 destruction of Finland in its tournament opener on Monday, the Scarborough, Ontario native and Anaheim Ducks forward Smith-Pelly, was forced to leave the game after blocking a shot. He didn't return and then later on Monday the Ducks announced Smith-Pelly won't be coming back for Team Canada or the Ducks for at least a month. He suffered a fractured left foot and will be out 4-6 weeks.
Before I go any further, I must make it clear that NHL players have to be released to the national teams and GMs certainly have the right of refusal. Smith-Pelly and Tampa Bay Lightning center Brett Connolly are the only NHL players in this year's World Junior Championships, but Team Canada also sought the services of Erik Gudbranson of the Florida Panthers, however GM Dale Tallon denied, so Gudbranson is still with the big club in South Florida. The Edmonton Oilers had a similar decision to make with Ryan Nugent-Hopkins and they elected at the beginning of the season not to have him play for Team Canada. There were plenty of other options denied as well.
It has long been a common practice for teams to grant the requests of the national clubs. The thought process often included the idea of how much can be learned playing for your country as well as getting some more ice time for players who might not get as much as young prospects on their NHL squads. But we're likely going to see fewer and fewer.
In the cases of players like Nugent-Hopkins, it's a no-brainer for the franchise to keep the player around. He's an all-world talent and has been arguably the best player on the ice for the Oilers this season. He is literally a key component of the team winning. In the case of Smith-Pelly, Connolly and Gudbranson, none has received a lot of ice time this season. In the case of Gudbranson, he's actually been a healthy scratch on numerous occasions this season. Still, Florida didn't want to let him leave the team for a few weeks.
The risks will scare more and more teams away. In addition the obvious of not wanting to take a good player off your roster for a few weeks, who wants to risk injuries that will cost their team a good, young player?
Obviously Smith-Pelly could have suffered the same injury with the Ducks and it's in no way to say that his playing for Team Canada is to blame for his injury. The same thing could happen in any game at any level. But the fact is Smith-Pelly did get hurt playing for Team Canada. You'd at least rather your guy get hurt playing for your team, wouldn't you?
We hear all the time in sports the objectifying of players. They are called pieces, parts, assets, weapons. Another popular one is calling them investments. In the case of the latter, it's a pretty apt comparison to make, after all teams put a lot of money into professional athletes. When you are talking about 19-year-olds, they are part of your franchise's future. They really do fit the bill for the word investment. So do you really think many people want to turn over high-priced investments to another broker, to keep the analogy going? I don't think so.
There aren't many players in the NHL that are still eligible to play in the juniors. Most of the ones that are of age are of the Nugent-Hopkins ilk, so good that they can make an immediate impact in the NHL. They aren't going to leave the NHL for a few weeks to play for their junior national team. So really we're only talking about a small number of players that are under 20 but aren't logging serious minutes in the NHL. For them there is still some upside in a loan to the national team, most specifically more ice time.
Of course, weighing the player's desire to play for their national team has to be a consideration. Last thing you want is a player to feel resentment over not getting a chance to wear his nation's sweater. That's why I don't think this will ever be an issue for the Olympics.
They aren't completely comparable as the NHL has begun shutting down for the Olympics thus no player is missing games for their professional team, but there have been rumblings that not all league executives like letting their players go play for their national teams because of the risks at play. But that's a battle they won't win. There are too many guys who want to play in the games, so they'll play.
But at some point the cons will outweigh the pros when you are talking about a couple of players at the junior level. The Ducks won't have Smith-Pelly available for a couple of weeks when the Junior Championships are done. That's too bad, I'm sure coach Bruce Boudreau would like some time to work with the young and talented player. The odds of the Ducks climbing back into the playoff picture are long, but a healthy Smith-Pelly wouldn't hurt them by any stretch. That's a pretty big con.
He hasn't played a whole lot with the Ducks, score three goals and two assists in a little less than nine minutes on ice per game. But he was helping to provide some line depth for a team that doesn't have a lot of it in Anaheim.
I'm not saying this is a death sentence to the World Junior Championships -- that would be ludicrous -- or even the end of NHL players in the Junior Championships. There will still the occasional NHLer released for the championships, just not often.
Photo: Getty Images
For more hockey news, rumors and analysis, follow @EyeOnHockey and @BrianStubitsNHL on Twitter.