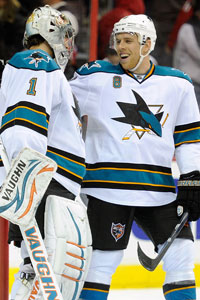 Pavelski's 22 goals are tied with Marleau, one behind Couture for the team lead. (Getty Images)
WASHINGTON -- The San Jose Sharks are kind of like that team they got their head coach Todd McLellan from, the Detroit Red Wings. They are there every season now. The only difference -- and it's the big one -- is getting to and winning Stanley Cups.
But like the Wings, the Sharks have that whole organization stability and continuity thing down pat. They are well on their way to a playoff berth in the eighth consecutive season and 13th in the last 14 seasons. They have won the Pacific Division every season since finishing second in 2006-07.
They have franchise stalwarts, too. Everybody knows the guys like Jumbo Joe Thornton, Patrick Marleau and last year's rookie star (and this year's All-Star Draft Mr. Irrelevant) Logan Couture. Guys like Douglas Murray, Ryan Clowe, Marc-Edouard Vlasic and now Dan Boyle have been there some time, too.
Oh, and Joe Pavelski. You can't forget Joe Pavelski, although it seems sometimes that people do.
Heck, he was even an afterthought in the 2005 NHL Draft. It took until the 205th overall selection -- that's the seventh round, folks -- for Pavelski's name to be called. That's when the Sharks took the University of Wisconsin star despite him being a better than a point-per-game player for the Badgers.
He's only been a key piece of their puzzle in the last half-decade or so. Particularly this season.
Pavelski had himself a game on Monday night in Washington, recording four points with two goals -- including this rather remarkable tally in the first period. It brought his season totals to 22 goals and 22 assists. He's creeping up on his career high of 25 goals with a whole lot of season left to play.
"Heck of a year," McLellan said.
McLellan has a way with words and that's as succinct and appropriate a way to put it as any.
I'm not saying people in hockey don't know who Pavelski is. That'd be rude to underestimate the knowledge of hockey fans, which is know is second to none. It's more that he just doesn't seem to get his full due. He comes down the list of names mentioned when people talk about the Sharks.
But he deserves more, particularly with the increased scoring production he's showing this year. He seems to be on his way to easily eclipsing the 30-goal mark this season.
Considering there aren't a whole lot of new faces in San Jose this season -- Brent Burns on the blueline is fresh as is Martin Havlat, but he's having a down and injury-plagued season -- it has been more about getting the chance than anything else. Kind of like just getting a chance after being drafted so late.
"Last year he spent a fair amount of time on our third line just with the way our team was built," McLellan said. "On the power play this year he's benefitted by playing with some better players -- some more creative players, pardon me, not better but more creative maybe."
He's playing more this season than he ever has, averaging 20:52 of ice time per game. It's led to increased responsibilities at both ends of the ice, not just when it comes to scoring.
"Pav is a very reliable guy at both ends of the rink," McLellan said. As much as he's reaching a career high in goals he's doing some real good things defensively as well."
Everybody's favorite stat in hockey -- plus/minus -- says that's true. He's a plus-15 this season, better than any season before. He's never been on the negative side. But you can't put too much stock into plus/minus, as we know it's a flawed statistic, doesn't really say much about the individual player.
An advanced metric that's a bit more telling is Corsi (for an explanation, here you go), and there Pavelski is a 12.93, the second highest among forwards in San Jose behind Thornton.
"I'm not surprised. He plays in all situations," Boyle said. "He kills penalties, he's a power-play guy, big-minute guy. Does a little bit of everything."
With the Sharks embarking in a nine-game, cross-continent road trip, they'll rely on all of his tools. It's the kind of stretch that will determine how the Pacific Division will play out as the Kings and to a lesser extent Coyotes and Sharks continue to lie in the weeds. If it's a struggle, the race is on.
"It's really important for us, you don't want to go 0-2 to start a road trip," Pavelski said of Monday's 5-3 win that followed Sunday's 2-0 loss in St. Louis. "You see what can happen with Chicago. It can just keep snowballing. It never gets easier on the road so you take the wins when you can get them.
"It never gets easier. That next game gets that much bigger."
The goal now for Pavelski and the Sharks is to get to that game where the stakes can't possibly be any bigger.
More from Eye on Hockey
Holtby beaten from center ice
Recap: Sharks 5, Capitals 3
NHL Trade Deadline rumor mill
NHL Playoff Race
NHLPA: McGinn's comeback season
For more hockey news, rumors and analysis, follow @EyeOnHockey and @BrianStubitsNHL on Twitter.