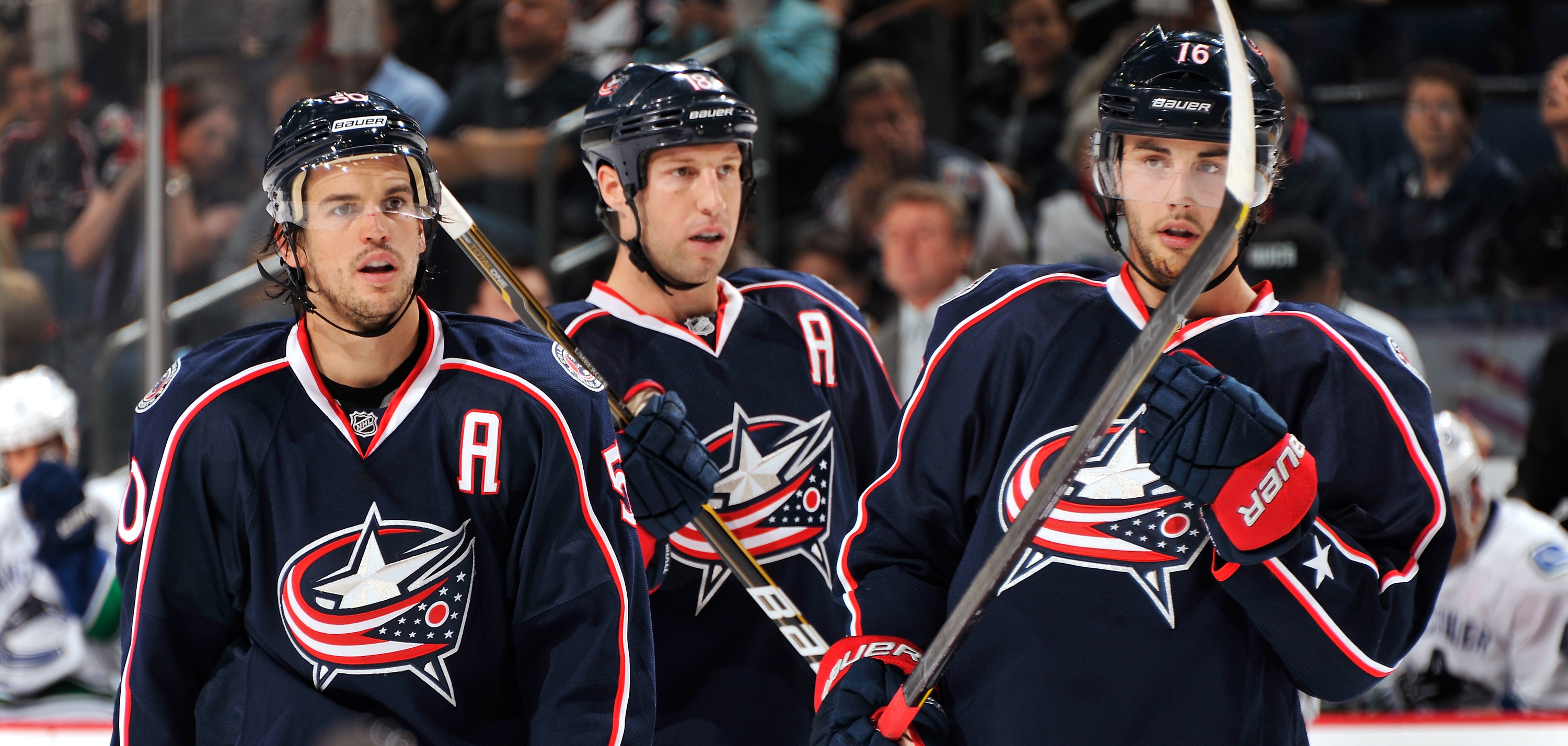 By: Adam Gretz
We're a little over a week into the regular season which means it's only natural to start jumping to conclusions based on a small sampling of games or head coaching decisions, and we're all guilty of it. Sometimes your initial knee-jerk reaction is accurate, and teams or players are as good or bad as they appear this early in the season, and other times it proves to be way too soon for such a judgement.
What about the Columbus
Blue Jackets
, one of the three teams in the NHL that has yet to win a game this season as of Friday afternoon. After an exciting summer of big-name acquisitions (
Jeff Carter
and
James Wisniewski
) is it still more of the same for an organization that has known nothing but losing since entering the NHL a decade ago? Or is it just a slow start hindered by the fact that one of those players (Wisniewski) has yet to appear in a game?
Is there really a goaltending controversy in Washington because
Michal Neuvirth
started the first game of the season instead of
Tomas Vokoun
? And is Vokoun really thee guy the
Capitals
can trust after struggling through his first start? Is Brendan Shanhan's early season run of suspensions going to be overkill?
In the spirit of Tom Symkowski and his
Jump To Conclusions Mat
in
Office Space
, we're going to jump to our own conclusions on those -- and more -- early season storylines .
1) New Look, Same Old Blue Jackets
Our Conclusion:
Too soon
A lot of the Blue Jackets success (or lack of success) this season will depend on how well goaltender
Steve Mason
plays, and so far, it's been a less-than-inspiring start for Columbus and its young goaltender.
But it's too soon to think these are the same old Blue Jackets.
For one, Wisniewski is still serving his suspension that runs through the first eight games of the regular season, and that has definitely been a big blow to the Jackets' lineup. Wisniewski is expected to be -- and will be -- one of Columbus' top-defensemen and anytime you're playing without that sort of presence in your lineup it's going to have a negative impact. The biggest issue for Columbus so far, and an area Wisniewski should certainly help improve once he returns to the lineup, has been its dreadful power play, which is currently off to an 0-for-20 start. This should get better when Wisniewski returns, and while the playoffs still aren't a given this season, the Blue Jackets are going to improve and take a step forward.
2) Tomas Vokoun Isn't The Answer For Washington
/
Capitals Goaltending Controversy
Our Conclusion:
Crazy talk. And Way Too Soon
When Michal Neuvirth received the opening night start over free agent acquisition Tomas Vokoun it started the discussion as to whether or not the Washington Capitals had a goaltender controversy on their hands. When Vokoun earned his first start of the season in game No. 2 and struggled during a shootout win against Tampa Bay, allowing five goals against the Tampa Bay
Lightning
, there were concerns that he's not the answer in goal for Washington.
Traditionally Vokoun has been a slow starter throughout his career. Tim Greenberg of the
Washington Post
, for example,
recently pointed out that October has been the worst month
of Vokoun's career from a save percentage perspective, and generally plays better as the season progresses. He already rebounded on Thursday during the Capitals' 3-2 win in Pittsburgh with a strong performance that saw him make 39 saves, giving his team a chance to pick up two points in the standings.
Vokoun has been one of the best goalies in the NHL in recent years, and even at 35, should have enough left in the tank to help form one of the better goaltending duos in the NHL with Neuvirth. And both will get the fair share of starts throughout the season.
3) Buffalo is a Stanley Cup contender
Our Conclusion:
Probably Accurate
The
Sabres
were already a playoff caliber team with plenty of excitement around them heading into the regular season, and a pair of impressive wins over Anaheim and Los Angeles to open the season in Europe did nothing to hurt that. The Sabres have one of the NHL's best goalies in
Ryan Miller
and boosted their defense over the summer with
Christian Ehrhoff
and, perhaps their best offseason addition,
Robyn Regehr
, to go along with
Tyler Myers
.
They were already a top-10 team a year ago offensively -- even with
Derek Roy
and
Drew Stafford
missing extended time due to injury -- and only added to that firepower up front by signing
Ville Leino
to help complement their already impressive group of forwards.
With that type of scoring depth, a trio of defensemen like Myers, Regehr and Ehrhoff, and a goaltender like Miller the Sabres should be one of the Eastern Conference's top contenders for a trip to the Stanley Cup Final.
4) Ilya Bryzgalov Will Be Philadelphia's Savior
Our Conclusion:
Too Soon
The Philadelphia
Flyers
finally have their No. 1 goalie and in his first two starts managed to allow just one goal. Problem solved, right? Maybe.
I'm still not sure he's going to be enough to get Philadelphia it's long-awaited Stanley Cup, and for as much as the Flyers revolving door of goaltenders was criticized last season, they were still in the top-half of the league in save percentage and not that far below what Bryzgalov put up in Phoenix's tight defensive system.
It's not that Philadelphia isn't a good team defensively, but I have some concerns over the age -- and and durability -- of their top-two defensemen,
Chris Pronger
and
Kimmo Timonen
, I'm just not sure Bryzgalov is going to be enough of an upgrade to make up for what Philadelphia lost up front this summer.
5) Brendan Shanahan Will Be Too Quick On The Suspension Trigger
Our Conclusion:
It's simply been the adjustment period.
New rules (or new wording of one of the rules -- rule 48) and a new person in charge of handing out discipline led to a sudden spike in suspensions during the preseason and
sky is falling
fears that hitting and all physical contact will be removed from the game. It's no different than when we came out of the lockout when the league put an emphasis on eliminating clutch-and-grab hockey and we saw a sudden spike in penalties, which eventually started to regress once players adjusted to the rules. The same thing will happen with Shanahan and the suspensions. The hammer will be dropped early as players figure out what they can and can not do, and once they adjust, business will go on as usual.
Photo: Getty Images
For more hockey news, rumors and analysis, follow @EyeOnHockey and @agretz on Twitter.