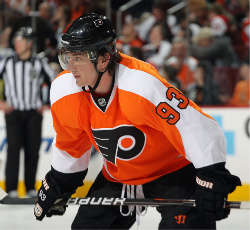 By: Adam Gretz
Whenever Nikolay Zherdev is the subject of discussion it's inevitable that the word enigma is going to get thrown around. The 26-year-old winger oozes talent and seemingly untapped potential, but has been frustrating teams and coaches since his NHL debut during the 2003-04 season. He remains unsigned as the calender is set to flip over to August, and is easily the biggest boom-or-bust player still waiting for a chance.
It's not yet known whether that chance will come with an NHL team or somewhere in Russia.
The folks over at Broad Street Hockey
translated a Russian interview with Zherdev late last week
where he talked about his potential landing spots (he also shared his critical feelings for his former general manager and coach), including his interest in playing for the Winnipeg
Jets
, as well as a possible jump to the KHL (which is something that, for some reason, seems like it would have already happened by now).
Somebody is going to take a chance on the talented winger because there's still too much offensive ability and upside to ingnore, and at 26, he's not exactly over-the-hill or on what would be the downside of his career. It can be too tempting to pass up, even if he can be frustrating in the defensive end of the ice and maddeningly inconsistent.
At this point Zherdev is what he is -- a talented, one-dimensional offensive threat that can score goals when put into the right situations. And that can be a useful asset to a team like Winnipeg that was 20th in goals per game last season, and has added nothing more than depth players this summer, while also buying low on
Eric Fehr
.
Zherdev scored more goals (16) with the
Flyers
last season than any remaining free agent on the open market (that's excluding Anaheim-or-bust Teemu Selanne), and did so by playing in just 56 games, which is a 23-goal pace over an 82 game season. That's nearly identical to what he did over the prior two seasons as a member of the Columbus
Blue Jackets
and New York
Rangers
.
When asking whether or not the Jets should be the team to pursue Zherdev, Drew Mindell at Illegal Curve
concluded the answer should be a rather easy yes
, provided it's only a low-risk one-year deal. And that seems fair. No NHL team should be willing to hand out a multi-year contract at this point because there's just too much uncertainty as to what you're going to get, and a team like the Jets seems to be a match in terms of having a need for some sort of additional offensive firepower. Even if it does carry some risk.
Photo: Getty Images
For more hockey news, rumors and analysis, follow @cbssportsnhl and @agretz on Twitter.